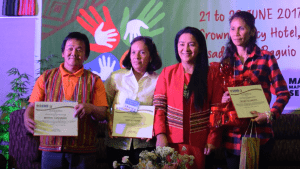 For someone to render or express his willingness to undertake a service without getting paid or expecting valuable rewards is a truly inspiring act. A selfless act that is usually associated to those we call "volunteers" – bighearted and empowered individuals that are often unrecognized of their priceless service.
"Volunteers do not necessarily have the time; they just have the heart." Elizabeth Andrew once said.
Volunteers are treasure to most government and non-government organizations that are into community service and community-driven development which includes the Kapit- Bisig Laban sa Kahirapan-Comprehensive and Integrated Delivery of Social Services (Kalahi-CIDSS, now a National Community Driven Development Program (NCDDP) under the Department of Social Welfare and Development (DSWD).
Throughout the two-year implementation of the Kalahi-CIDSS program in Atok, Benguet, the purpose of the program which is empowerment is slowly being fulfilled. This is evident on certain individuals and groups in the community who had shown exemplary performance and enhanced their knowledge and skills by actively participating in the implementation, decision-making, and management of development activities in the Community Empowerment Activity Cycle (CEAC) of the program.
Most of them are community volunteers who willingly sacrificed their time just to involve themselves in the technical, financial and social management of the program.
One volunteer stands out among them all. His story truly embodies an empowered person. He began a journey as a simple volunteer who later involved himself to different government and non-government programs implemented in their barangay until he became a multi-awarded individual. He is Manong Moreno an Audit and Inventory Team (AIT) member for the Kalahi-CIDSS first cycle implementation and later became the Chairperson of the Barangay Sub-Project Management Committee (BSPMC) during the second cycle.
Manong Moreno Kimbongan hails from barangay Naguey, Atok, Benguet. A 53-year old jolly guy who lives alone, he manages a piggery and raises chickens for a living.
He actually dreamt of becoming an accountant but financial constraints caused him not to get a college degree. Gladly, as an AIT member he is now living a bit of that dream.
With his educational background, he still became "somebody" worth mentioning in his community. His long involvement to different local and national organizations, firms, and religious activities earned him various awards. If the municipality would have their own version of Hall of Fame awards, I bet he would be number one on the list.
He was a volunteer to the Plan International, a non-government organization in the 90's for the organization's livelihood project and child fostering services. In 1992, he was awarded as the Most Developed Volunteer by the organization.
From then, he continued his volunteerism joining cooperatives and Barangay Health Workers (BHWs). In 2006, his dedication landed an award as "Most Outstanding BHW."
Receiving awards did not stop him from learning continuously. He involved himself to government sponsored seminars and trainings on Gender and Development, Barangay Child Protection Council, Case Management, Violence Against Women and Children Law, First- Aid among others.
In 2014, when the Kalahi-CIDSS was introduced to his barangay, Manong Moreno considered it as another opportunity to serve his "Kailyans," thus becoming a volunteer.
The Kalahi-CIDSS is a community driven development program highly involves the community in its operation, consequently there is a need to create a BSPMC. This is composed of community residents representing various teams such as the AIT to implement the sub-project.
His experiences in volunteering to other national programs and his experience on financial management prompted Manong Moreno to be a member of the Audit and Inventory Committee. His knowledge and skills fits for the committee. Having attended trainings on finance, his knowledge and skills were enhanced letting him effectively perform his role during the sub-project implementation.
As the community empowerment facilitator (CEF) assigned in his barangay, Manong Moreno does not only help his community but he continues to inspire them including me, through his diligence, initiative, versatility, trustworthiness and many others.
Observing him, I can say that he became the mobilizer and teacher of his team and co-volunteers. He became more of a co-facilitator to the CEF in every barangay activities starting from the first Barangay Assembly of cycle 2 where he facilitated the discussion on Gender and Development. He also became the focal person for the succeeding activities specified in the CEAC.
Sometimes, he initiates BSPMC meetings and assists in the preparation of proposals. Diligently, he computes payroll rates and was always present during SPI Monitoring.
Working with him, I think he understands the importance of meetings and actively participates especially on project proposal preparation. When asked why he chose to stay as a volunteer, he said "kayat ko tumulong ta naragragsak ti mangted ngem ti umawat maysa pay ket ti resulta na daytoy ket living legacy nga pakalaglagipan me kadigiti apo min to (I want to help [my community] because I'm happier when I give rather than receive. Another thing is, this is a legacy we could leave to our grandchildren)".
Despite his educational limitations, he had already contributed priceless things that enabled various national and local program successfully implement their services.  Particularly, his efforts are invaluable in the completion their sub-project – concreting of barangay Naguey Community Footpath with Railings.
Manong Moreno might not have fulfilled his dream to become an accountant but living his dreams while being able to give back to his community is more valuable than a piece of diploma. Being recognized are just bonuses for all his efforts. Indeed, the lack of a degree is not a hindrance in sparking inspiration to others. #DSWD-CAR, SOCIAL MARKETING UNIT, Azriel Dolo-CEF with Jasmin Kiaso.