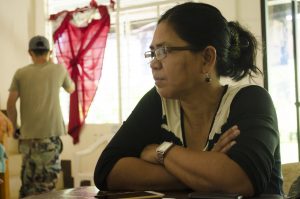 Itogon, Benguet– It was fate that forced her to live a solo life but Mary of Virac, Itogon, Benguet was never alone.
In 2006, Mary Bayangan and five children were left behind because of his husband's death. Aside from the pain of living without his partner in life, Mary had to bear the consequences of this demise.
"My husband worked as a farmer and a miner. It was 1996 that he started to become ill, and every year it got worse. We worked together to get through. Life is hard then but without him, it became harder", Mary shared in vernacular.
To provide for the family's needs, Mary had to be a jack of all trade. She engaged in various income generating activities. Once a week, she accepted laundry services. She also worked for a farm and was paid on a daily basis. She even engaged in manual hauling of sand and gravel in their area.
It was in 2006 when Mary became a Barangay Health Worker. But with the responsibility that entails her being a solo parent, she had to exert even more effort.
"In the afternoon, I have to collect "naba" (rejected mineral deposits with gold traces) and haul them manually to the foot of the mountain. I need to collect 8 sacks of these before I can process it to get the gold. Around 40 sacks of it will give me Php 15,000 to Php 18,000 but it would take me more than one month to collect such", Mary shared.
The money she earned sustained the education of her children. But there are other needs of the family. It was in 2012 when Mary's family was included in the Pantawid Pamilyang Pilipino Program.
Not alone
Pantawid Pamilyang Pilipino Program or 4P's is one of the poverty alleviation programs of the government implemented by the Department of Social Welfare and Development (DSWD).  It is a human development program that invests in the health and education of poor households, particularly of children aged 0-18 years old. The program provides cash grants to beneficiaries provided that they comply with the set of conditions required.
"The assistance is really not enough, but it was a big help", Mary said.
As a parent leader, aside from the cash assistance she received, Mary was also able to attend various trainings which honed her leadership skills and enhance her knowledge about values formation. Through the experiences, she was able to gain more than the assistance and knowledge but a treasure that she can keep for a lifetime- her friends.
"I was able to meet other people who are in the same situation as I do. And eventually, we became friends", Mary added.
Solo but happy and fulfilled
Despite all the challenges and hardships, Mary maintained her positive disposition in life and now, she is reaping the fruits of her sacrifices.
"When my husband passed away, neighbors doubted by capacity to send my children to school. But I was determined to give my children the best gift that I can give them, their education", she said.
Three of her children are now professionals. Her eldest, Zahani is a teacher, Afani Grail is a nurse and Sixto Jr. is a government employee with a degree in Information Technology.
Though the family has already been removed from 4Ps, Ivan Amiel and Jethro Lee, who were then enrolled as Pantawid beneficiaries, are still both in school.
"I always encourage other parents to do their best to send their children to school. Poverty should not be the reason for the children not to finish their studies", Mary added.
From being a parent leader, Mary is now the President of Itogon Solo Parents Association.
"In the past, I always wished to be able to talk in front of many people and share my story. And now, I am able to fulfill this. I am happy that I also got to travel to Cebu and Naga because of my engagement in the association", she shared.
Solo parents are encouraged to form their selves into a group for support and to further advocate their rights as a sector. Republic Act 8972 or the Solo Parents Welfare Act of 2000 provides for the benefits and privileges of solo parents which includes additional leave privileges, livelihood assistance, scholarship for the children and others.
Meanwhile, Mary has been hired as an Administrative Aide III through the local government's livelihood program. This gave her the opportunity not just to earn a living but also to continue doing what she loves- inspiring and serving people.
The passing of her husband led to Mary being a solo parent, but for her, this episode in their life taught them to become strong and how to let go of the past. This has tested her attitude and determination, but in the end, Mary stands in triumph.
"To other solo parents who are losing hope, do not give up. Just push through with your plans.", she added.
"Kahit saan ako pumunta, may handang tumulong saakin. Hindi ko alam kung anong dahilan kung bakit ako naging solo parent pero dito ko nakita na may Diyos na nagmamahal sa aming mga solo parent", Mary shared.
The loss of her husband might have left a missing part in Mary's life but, she is not alone in this journey. And she is full of hope and inspiration to spending her days ahead with her family while fulfilling the dreams they have. # DSWD-CAR, SOCIAL MARKETING UNIT, Nerizza Faye G. Villanueva with reports from Joseph Tolingan, SWA, Itogon, Benguet