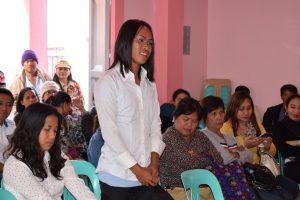 Gender, age, and education is no barrier in serving your community. Joselito Rodriguez, 24, a member of LGBT in Villaviciosa, Abra proved this.
"Josel" as he is fondly called became the youngest Barangay Sub-Project Management Committee (BSPMC) Chairperson of DSWD Kalahi-CIDSS in the region when he responded to the call of service to his community.
His story echoes a journey of learning while serving in his community. As a high school graduate, his willingness to serve pushed him to enhance his knowledge and skills in community work.
Josel's first steps as a leader
When Kalahi-CIDSS was first introduced in Villaviciosa, Abra in 2014, Josel admitted that he was reluctant in joining the committee of volunteers. But through the encouragement of his community and after much reflection, he decided to take the challenge.
He joined as a participatory situational analysis volunteer and eventually he was chosen as the BSPMC Chairperson at the age of 22.
Since then he diligently learned the processes and purposes of Kalahi-CIDSS. He also said that learning about it was tough and challenging.
"There were a lot of things to learn and there were times that I thought I could not do it," he narrated in vernacular. But the kind words and encouragement from the people from his barangay gave him strength to push himself to the maximum and learn.
"It was a gradual process before I learned what Kalahi-CIDSS is trying to achieve," he continued. Josel started to understand the purpose of Kalahi-CIDSS after attending capacity building activities organized by the DSWD with the local government unit of Villaviciosa.
As a volunteer of Kalahi-CIDSS, Josel had seen and heard people complaining on the slow and long process of the program. "At first, we were impatient on how things are being done but as we continued, I understood that the meetings or consultations is important in making our decisions," he added.
"Explaining to our fellow residents became our nonstop job as a volunteer," he continued. Young as he is, he acknowledges that learning and understanding community-driven development would take a long time to accept and practice by heart.
Many from the community still failed to understand the need to have volunteers. "During the second cycle, nobody wants to volunteer anymore because it seemed like all of us were caught up in our daily life trying to work for our families." he explained.
Josel said that they experienced birth pains during the first cycle of the program as gathering at least 80% of household population became the real challenge. "However, when we were prioritized during the second cycle, we were relieved and reenergized," he said with delight.
"With my community in high spirits. I witnessed how bayanihan helped strengthen and developed our community," he added.
Proudly, Josel also talked about his two thick notebooks where he wrote everything he learned and, every transaction the committee made. "My fellow BSPMC Chairpersons from other municipalities were wondering why I have such notebooks so I told them that this is my reference every time other volunteers ask about Kalahi-CIDSS," he said.
Josel went on to tell about the impact of Kalahi-CIDSS as he sees it. "One of the biggest impact of Kalahi-CIDSS in our barangay is on gender and development. During the implementation of the program, women participated not only as vital part of decision-making but also during the paid labor.
He added that he can't help but notice and smile that women and even senior citizens are now active in construction-related labor. "As I see it, our barangay embraced gender and development which is one of the things being embedded by Kalahi-CIDSS," he added.
Service from the heart
After more than two years as a community volunteer Josel came to see that the program is trying to eliminate poverty and that became his motivation to continue volunteering.
"Volunteering made me realize that my heart tells me to become a servant leader," he reflected. He added that when he thinks about his community, it inspires him. "Our place is just like Baguio where we have beans, cabbage, pechay and other vegetables but the only difference is we struggle in transporting our products to the market," he said.
They can reach barangay Poblacion within two to three hours motorcycle ride. There is no public transportation in the area. Thus, the whole community worked together so that their proposal for a farm-to-market road be prioritized. And, they emerged successful in completing 300 linear meter road in their barangay on time.
"I like the challenges that comes with being a volunteer because I'm learning along the process. I guess if given the chance, I would still want to continue as a community volunteer," he said.
As the youngest BSPMC Chairperson in the region, he says that his perspective about service and leadership changed in many ways. "Through the series of trainings, I realized that I should never stop learning but will instead strive to be a better person and leader," he mused.
Despite being discriminated as a member of the LGBT, Josel instead showed his abilities and passion making his community realize that he has unparalleled potential vital for their development. "Now, they started giving us important roles regardless of our gender," he said in relief.
Earlier in 2016, Josel was tapped to become a barangay health worker. He said they were called for a training in Bangued, Abra after Typhoon Ineng hit their barangay in 2015. His days are now filled with accompanying and transporting patients from their barangay health clinic to local hospitals nearby.
Reflecting that his deepest passion is service for his community, he said he would happy in social work. "When I was younger, I wanted to become a teacher, but then when I started as a community volunteer, I think being a social worker would suit me better," he revealed.
"I'm a high school graduate and I still wish to finish college or vocational course, but I guess my service to my community is genuine enough," Josel thought.
DSWD Kalahi-CIDSS is one of the poverty alleviation of the government which uses the community-driven development (CDD) approach.
CDD is a development strategy that puts power in the hands of the people by giving them the opportunity to decide the development of their communities.  #DSWD-CAR, SOCIAL MARKETING UNIT, Jasmin Kiaso