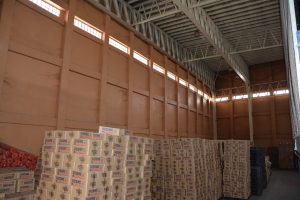 Cordillera Administrative Region- The Department of Social Welfare and Development (DSWD) here is continuously working on the assistance to be provided to disaster victims.
"We are working all-year round to ensure that we are ready to provide assistance to individuals in crises situation. It is just that during the rainy season, we often experience disasters thus, we are now doubling our efforts even before these calamities happen", DSWD-CAR OIC Regional Director Janet P. Armas said.
Being in charge of the Response Cluster of the Regional Disaster Risk Reduction and Management Council, the Department leads in camp management and coordination including the provision of food and non-food items.
As of 30 May 2017, a total of 15,601 family food packs worth Php 6,033,736.39 are available in DSWD warehouse located at Puguis, La Trinidad, Benguet. Each family food pack contains four (4) canned sardines, four (4) canned corned beef, six (6) packets of instant coffee and six (6) kilos of rice. Around 22,384 brown rice bars and 5,000 packs of infant dry cereal are also available.
Aside from these food items, the Department maintains non-food items including towels, blankets, clothing, cooking and eating utensils, mosquito nets, and tents. Around 13,500 "dignity kits" are also available.
"We recognize that need during disaster situation is not limited to food that is why we have bags we call dignity kits. These kits include products that can be used for proper hygiene", Director Armas added.
Meanwhile, the DSWD in coordination with LANDBANK, is still working on the process for the release of assistance to Typhoon Lawin victims.
"For the second tranche of Emergency Shelter Cash Assistance, we will be utilizing two modes of payment. The first one is the off-site distribution through cash or cheque. Regional personnel will again go on field to deliver the assistance to around 5,574 household-beneficiaries. And the other one will be through cash card. Around 40,267 household-beneficiaries will be paid through this mode", Armas shared.
"We are doing our best to fast track the processing of cash cards, however, there are protocols and legal processes that we need to undertake. But we assure the public, especially the affected families that we will be releasing the assistance", Armas added.
The Department is expected to release the assistance worth Php 346,985, 210.00 to Typhoon Lawin affected households in the region.
The said amount will be used to fund the full implementation of the Emergency Shelter Cash Assistance Project (ESCAP) and Cash for Work (CFW). Of the said amount, Php 229,205,000.00 has been allotted for ESCAP and Php 117,780,210.00 will be used to fund CFW proposals.
Through the ESCAP, household-beneficiaries with damaged houses will receive cash assistance for the rehabilitation of their houses. Initially, they have already received Php 5,000.00. The second tranche of assistance will vary such that additional Php 5,000.00 for partially damaged and Php 25,000.00 for totally damaged houses. On the other hand, proposals for communal infrastructure rehabilitation are accepted under the CFW.
In the region, a total of 30,876 household- beneficiaries were able to receive the initial assistance. For the full implementation, the Field Office targets to serve around 45,841 households. Of this number, Kalinga posts the highest number with 20,815, followed by Abra with 12,357, Apayao with 9,249, Benguet with 1,327, Mountain Province with 1,322 and Ifugao with 771. #DSWD-CAR, SOCIAL MARKETING UNIT, Nerizza Faye G. Villanueva