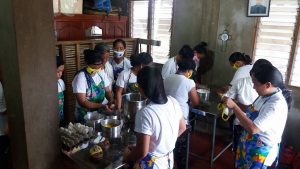 Tabuk City, Kalinga – The Department of Social Welfare and Development (DSWD) through its Sustainable Livelihood Program (SLP) granted P700, 000 worth of livelihood assistance to 35 indigent families.
In partnership with the Technical Education and Skills Development Authority (TESDA) of Kalinga, members of the Istay-Makun-Na Sustainable Livelihood Program Association (SLPA) underwent a seven day skills training on bread and pastry production which ran from 11 to 17 May 2017.
Istay-Makun-Na SLPA has 35 members, 27 of them are Pantawid Pamilya beneficiaries while 8 are certified indigent. Currently, the members are reliant on their income from farming and daily labor.
Members of the SLPA expressed their gratidtude for the livelihood opportunity. Even the name of the SLPA proves this as Istay Makun Na means "we are thankful of what you have given to us".
"Pirmi ti ragsak ken iyaman me kadagiti equipment, utensils ken ingredients nga inted iti DSWD nga usaren me agluto. Mas na-enganyo nga karkaru dagiti miyembro nga agatendar iti training. Maysa daytoy nga opurtunidad nga mangted iti pagtrabaho-an ken mangnayun wenu pagalaan dagiti myembro iti pagbyagan." (We are very thankful for the baking equipment, utensils and ingredients that DSWD has provided. It increased the motivation of members to attend the training. With this grant, it can create employment opportunities and additional/source of income for the members.) said SLPA President Daria Guinayao who is also a widow, mother of a special child and a Pantawid beneficiary.
With her eagerness to support their association, she offered her family's old house to accommodate the bakery that they will be putting up.
Currently, bread and pastries are purchased from Tuguegarao or Tabuk City. Once put up, the bakery will be the sole supplier of freshly basked and cheaper products in the area.
"Our agency, with the LGU and DSWD will be assisting the association for their registration and linkage to the market." TESDA Provincial Director Gabriel Cayacay said in his speech during the opening program of the training.
Meanwhile, SLP OIC-Regional Program Coordinator Enrique H. Gascon, Jr. said that continuous provision of grants to SLPAs is one of the government's contributions to poverty reduction by providing a sufficient and sustainable source of income.
"We look forward to the success of our livelihood associations such that these give them a permanent source of income. We also encourage other stakeholders to support the livelihood endeavors of our participants", Gascon said.
SLP is a community-based capacity building program that increases the economic opportunities of the families through the different modalities like the Microenterprise Development-Skills Training (MD-ST).
MD-ST is a grant given to eligible SLP program participants to enhance their skills for higher productivity and profitability. It provides the participants financial capital , knowledge and skills necessary to be able to establish and manage their sustainable microenterprise.
Participants in the MD-ST track are pooled together as a group known as SLPA. These will help them establish economically sustainable microenterprises and maximize resources within their organized groups.
Bread and Pastry Production is a TESDA short course training focusing on the preparation and production of pastries and desserts. The participants have to undergo knowledge and skills transfer training on bread and pastry production and basic bookkeeping to establish their market-driven and resource-based bread and pastry micro-enterprise. Succesful trainee are then conferred with a National Certificate II.
Aside from the training and assessment fee, the Department has also provided starter kits which include baking equipment, utensils, and ingredients. #DSWD-CAR, Social Marketing Unit, Babble Mae Gorio