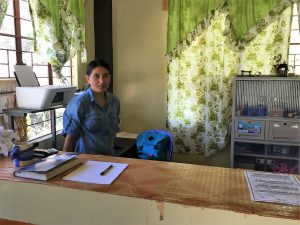 Kabayan, Benguet – On most days, you can always catch her with her hands full but don't let that fool you. This mother of four has more to her than meets the eye.
Mother's Instincts
Dorta D. Piacot was born and raised in Kabayan, Benguet. For all her life, she had always known that she would be a mother. It is in the same town where she met her life partner and father of her children, Sergio.
"Friend suna ni ading ko sunga makipaspasyar kunwari ijay balay mi, ngem balak na agarem gyam kanu a. Dayta ma'am, after graduation ko ti college, nagkasar kami bigla, awan ti nabayag nga tiempo nga nagaygayeman (He was a friend of my youngest sibling who always tags along whenever he comes home, only to find out he was only there because he has a crush on me, and then it happened. Right after college we skipped courtship and got married and started our own family)", Dorta shared.
Sergio Piacot is a miner. On most days, he gets his hands on whatever work that he can so as to provide three meals on his family's table. They were blessed with four children namely Giovanni – 18, Sonwright – 16, Rio Krielle – 13, and Carvin Ralph – 10. Their eldest son dropped out of school at an early age to help out the family by working prior to being beneficiaries of Pantawid Pamilya. The other three are enrolled, monitored, and are doing well in school.
Woman, You Can
Before, Dorta was just like every other housekeeper busy tending to the needs of her family. But nowadays, you can see her in almost every event in the barangay and nearby areas always on the go and ready to lend a helping hand. On 2011, their family was included in the program as Set 4C. On the same year, she became a Parent Leader in their area who just passed the crown this year to venture on a different road.
On January 2017, after 5 fruitful years of being a parent leader, she has turned over the position to a co-beneficiary for her time has come to venture on something bigger. On the same month, she was appointed as Barangay Treasurer in Barangay Asob, Gusaran, Kabayan, Benguet.
Her time as a parent leader has indeed been a fruitful one since through this, her efforts had been acknowledged thus landing her a job. Although she has given up her title as a Parent Leader, she still is active as a community volunteer for the KALAHI-CIDSS project, as well in the Sustainable Livelihood Program. In fact, they even have an association called the NARASUGI which sells rice and feeds.
These knowledge she had acquired through her time as parent leader were not put in vain for she has been able to share it not only to her fellow beneficiaries but also to her other constituents who were not included in the program.
"Addu met naadal ko gapu iti FDS, especially iti parenting. Adda realization mo nga "ayna, adu gayam iti nagkamaliam nga parent" isunga adda met pangalaam ti maiadvise mo kenya da nga haan nga pantawid benes. (I have learned a lot in our Family Development Sessions, especially in the discussions about parenting. There were realizations like "oh, I should have not done that to my kid or I could have handled that situation better". With these (FDS learnings) we get to share to other non-Pantawid beneficiaries as well)", she added.
More than a mother, she is a Woman
Aside from being a loving mother to her children, Dorta also embodies a strong, independent, and will-powered woman.
At an early age, she was taught that being a woman is not a limitation to go further and achieve greatness. Although she married early, she still made sure that she still has that identity and has passed this on to all her children.
"Uray tatta ma'am nga nagkasar kami ni lakay ko, hannak jay asawa nga agururay lang iti maiawid ni lakay, agbirok ak iti maicontribute ko tapno mas nalaka ti biag mi – ta kitaen yo met, adu annak mi, haan mi kaya nga maymaysa lang iti agtrabaho, kailangan nga agtulungan kami nga agasawa. (Even now that we're married, I'm not the type to just wait around for my husband's take home, I also look for ways to help earn money for our lives to be easier. See we have four children, and we cannot do with just one of us working. We need to help each other)", Dorta said.
Given that it's already time to transition, Dorta is confident that she and her family are ready to graduate from the program. She is thankful for all the years they have been beneficiaries and are hopeful that their gradual transitioning from subsistence to self-sufficiency will be continuous in the hopes of breaking the intergenerational cycle of poverty that they are currently into.
Indeed a woman can do whatever she put her mind into, from a housekeeper to a barangay treasurer. She just needs the right motivation. If we make change work for women, you can rest assured that the women will make the necessary change. #DSWD-CAR, SOCIAL MARKETING UNIT, Phylein Maria Rosette U. Callangan