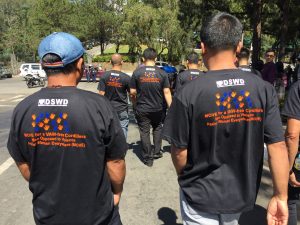 BAGUIO CITY- Women are not the only ones in the movement for gender equality and justice anymore.
Among the throng of people queued up for the Women's Day Celebration parade on March 8 were a group of men from the Department of Social Welfare and Development – Cordillera Administrative Region (DSWD-CAR). These men are engaged in the fight to stop Violence against Women (VAW) and promote equality in all forms; they call themselves Men Opposed to Violence against Women Everywhere or MOVE.
"For the longest time, kapag pinag-uusapan natin ang women empowerment tsaka women's rights, ang laging nagsusulong, ang laging kumikilos, ang laging gumagalaw ay ang women's sector", says Eric Escalante, current chairperson of Men Opposed to Violence against Women Everywhere DSWD-CAR (MOVE DSWD-CAR).
MOVE is a national advocacy movement organized by the Philippine Commission on Women (PCW) in 2006 as a means to engage men from various government and non-government organizations, private sectors, and the academe to join the crusade towards the elimination of VAW in the country and to form linkages with other groups working on the same cause; so far, PCW has established MOVE groups in different offices nationwide including the Cordillera Administrative Region.
In the region, MOVE DSWD-CAR was established in 2010. Composed of the male employees of DSWD, the advocacy group aimed to assert and defend women's rights in the Cordilleras, and to mobilize and capacitate men in the region to join in the group's advocacies.
Seven years since its establishment, MOVE DSWD-CAR is one of the two existing chapters in the region, but Escalante says that the advocacy group may reach out and expand to other organizations and agencies to further spread MOVE's initiatives towards VAW awareness and gender equality.
MOVE DSWD-CAR pro-actively participates in activities such as celebrating Women's Month in order to show that women are not alone in their battle against VAW and promotion of women's rights.
"Kailangan na nating lahat makita na hindi lang ng mga babae kundi ng mga lalaki na ang pagsusulong ng mga karapatan ng kababaihan is not only the role of women but it should be a co-responsibility and at the same time a priority also of men," Escalante shared.
Escalante also explained that men were always seen to be on the other side of the battle as perpetrators and abusers; however, men could also be helpful in forwarding and pushing the agenda of empowering women asserting their rights in the country.
MOVE DSWD-CAR has joined numerous activities including the city-wide celebration of Women's Month every March, conducted seminars on child sexual abuse prevention and gender sensitivity trainings. The group has also conducted a film showing on children's rights and held its first general assembly where it planned its activities and programs for the year.
"Ang gusto talagang makita ng MOVE ay 'yun nga, magkaroon ng equal footing sa lahat ng bagay ang babae't lalaki…Ang pinakagustong gawin lang naman ng MOVE ay masuportahan 'yung karapatan ng kababaihan, na ma-empower ang kababaihan", Escalante shared.
"We are glad to see our male employees to be joining this kind of advocacy- that is to promote the rights of women and fight violence. I salute them for taking their stand on this issue. We hope that more stakeholders will also take part in this for us to have a stronger battle versus VAW and other forms of abuse or discrimination because women cannot do it alone. Ensuring that women and girls are able to enjoy their rights and equal opportunities is not just the responsibility of women, the government or some organizations. This is the concern of everyone." DSWD-CAR Regional Director Janet P. Armas said.
This year, Women's Month celebration focuses on the theme "We Make Change Work for Women". #DSWD-CAR, SOCIAL MARKETING UNIT, Nerizza Faye G. Villanueva with Patricia Leuterio (Intern)