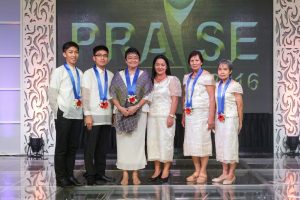 Cordillera Administrative Region- Being a graduate of Bachelor of Library and Information Science, Rojan A. Paleng's journey with the Department of Social Welfare and Development (DSWD) here was neither usual nor easy.
But after six years of service, Rojan has finally reaped the fruits of his hard work when he was awarded as "Most Passionate Regional Learning and Resource Center (RLRC) Focal Person" given by the Department last February 24 held in line with DSWD's 66th anniversary celebration.
Humble beginnings
Ojan, as Paleng is fondly called, graduated in Benguet State University in 2011. As a student, he took his internship at Asia Pacific Theological Seminary which developed his interest in special library. Unlike school or academic libraries which serve educational institutions, and public libraries which are open to cater to the needs of the general populace, special libraries specialize in providing information and knowledge product on the expertise of the institution it belongs to.
With his newly discovered interest, Ojan entered the DSWD through the Government Internship program (GIP) since during that time, the purpose of hiring interns is to build a learning resource center.
Stepping Stones
Since the GIP is only a short term program which aims to enable the youth to realize their potentials and become responsible individuals and active participants to national development through paid government work, Ojan took the opportunity to become a part of the DSWD as an employees.
His first job was as an Administrative Assistant II under the Capacity Building Unit of the Pantawid Pamilya Pilipino Program. With the position, he has done training logistics, clerical and administrative functions. He was also given the opportunity to share his talent in singing during learning development interventions which helped build his confidence.
However, this seemed to keep Ojan away from fulfilling his passion as a Librarian. At times, he decided to let go of this since the Department does not have a permanent position neither a stable fund to pay for the professional fee of a librarian.
But he finds his way back to pursue his passion of building a resource learning center and to expand his experience as a librarian.
"Medyo nasasayangan kasi ako sa time na nagla-lapse kapag iniiwan-iwan tapos binabalikan kasi inuulit na naman mula sa umpisa yung pag-buo sa RLRC. I mean the effort that we exert is parang hindi continuous" Ojan shared as one his reason for coming back.
Aside from the lack of funds, the absence of a permanent space for the resource center also became a challenge for him.
But with the determination and passion, Ojan continued being a librarian that leads him into building the resource center, storing success stories, knowledge and good practices of the department.
Most Passionate RLRC Focal Person
The award as the Most Passionate RLRC Focal Person became a surprise to Ojan for the DSWD-CAR, which he represented during the event, was only looking forward to win the first place in the INNOVATE awards.
INNOVATE stands for Incentive for Notable and Valuable Technology on Expanding Learning. The award was given to DSWD Field Offices that were able maintain their Learning Resource Centers based on the standards of DSWD Capacity Building Bureau.
Ojan admitted that he did not even know how passionate he was until the award was given. "Others urge me to apply to other positions but I always find a reason to stay. Oo nga ang dami nilang sinasabing opening pero nag-stay ako kasi na-sustain ko yun passion ko to really push the DSWD and Field Office-CAR or the Central Office to have a learning center", he shared.
He also believed that the DSWD Learning Resource Center has a big role for the incoming generations especially students, social work students who can be or will be a DSWD staff in the near future which made him to push for the establishment of the Learning Resource Center.
As a librarian he has become a proactive information provider not only to the DSWD family but also to the students, especially social workers and other professionals in terms of social welfare.
"Continue doing what you love to do. You don't need to exert too much effort just to get the award but the reward will soon come kung talagang ginawa mo yung trabaho mo with all your handwork. Keep doing what you believe that is true. I encourage everyone to do what you want and what you love to do" Ojan shared as he ended.
On the other hand, Elsa Apillanes, house parent from the Regional Rehabilitation Center for the Youth and Felomina Estopace, caretaker of the Regional Haven for Women and Girls received the Gawad Kalihim Award which was given to contract of service workers who have served the Department for 15 years or more. The recognition is under the Program on Awards and Incentives for Service Excellence or PRAISE scheme of the DSWD.
PRAISE is implemented by the Department to recognize and reward its officials and employees for their outstanding accomplishments and exemplary performance towards the delivery of public service. #DSWD-CAR, SOCIAL MARKETING UNIT, Nerizza Faye G. Villanueva and Collene Nillas (Intern)