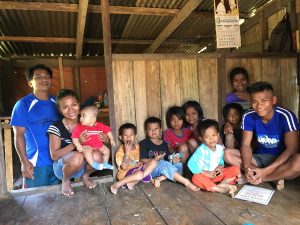 An hour and a half away from the town, pass several mountain creeks and unpaved roads of Barangay Poblacion, Paracelis, Mountain Province lived a man named Erwin Casiw. He looks like your average Cordilleran man with his built and posture, but this man is much more than what you see in the surface.
Man of the House
After 22 years of marriage, Astrophel and Erwin are blessed with nine children and two grandchildren. These numbers may shock a few, but the family just makes a perfect example of the phrase "the more, the merrier." Erwin, being a full-blooded Igorot, believes that as long as you can provide for your family, the number of children wouldn't be an issue. They may not be rich but he firmly believes that the children are the best form of blessing one can receive.
"Iti ubbing iti kapintasan nga regalo iti Diyos para dagiti ag-asawa, isu nga uray addu ti anak mi, ikarigatan mi nga padakdakelen ida (Having children is the greatest gift that the Lord can give to couples. That is why even if it is hard, we try our best to raise them well)," Erwin said.
Being a father of nine, he has understood that although he is the man of the house, he still has responsibilities albeit the stereotypical duties of a man. He has been both the mother and father of their children not only while his wife had been recuperating from child rearing, but has practiced blurring the lines of social and gender norms when it comes to dealing with household chores. He does not listen to the dictations of the community but he believes that what matters is that he does what is right.
"Aramiden tayu ti pagrebbengan tayo kabayatan nga agbibiag tayo. (As long as we are living, we will do what is right)," Erwin shared.
Life-long Learner
Despite this, the family had to face the consequences of having a big family.
"Haan nga nalaka ti agpadakkel iti ubbing. Lalo nu agpapa-eskwela, nag-rigat nga agbirok iti pangbalon da. Ngem adu iti nasuro tayon. Mainayon pay iti suro iti Family Development Sessions iti Pantawid" (It is not easy to raise children especially when it comes to sending them to school and giving them baon. But we have learned so much [from experience] including the lessons from Pantawid Pamilya Family Development Sessions," Erwin shared.
Not being able to finish his studies, he values education much in life that he wants to impart to all his children that being educated is indeed the best way to succeed. Faced with financial constraints, he had to give up schooling but Erwin believes that one can continue learning by experience, and this is where he excelled the most. He also believes that every day is a learning experience and that every person and every encounter is a new opportunity to learn.
Although he was not able to get a degree, he made it sure that his children won't suffer the same fate as his. He worked hard and was full of determination to put all his nine children to school. Luckily, his children were raised well and did not take this opportunity for granted. Two of his daughters studied Bachelor of Science in Social Work, and one even graduated with Latin honors just last year. His son is an Alternative Learning System (ALS) student while the rest of his younger children are also actively performing in school.
"Isu lang ti pasalamat ko ti apo diyos ta uray kastuy ti kalagayan mi ket dagiti annak ko ket nagaget da nga ag adal (this is what I thank the Lord for, that despite our situation, my children are diligent and are doing good in school)," he says.
More than a father
Erwin is not just a husband and father to his wife and children. Responsible, active, efficient, and selfless are but a few words to describe Erwin as a man and a leader. He is actively involved in various organizations in his community. He is a member of a couple of organizations in and out the municipality and is currently the President of the Paracelis Abat Farmers Development Association, Inc. (PAFDA), the first Civil Society Organization accredited by the DSWD Standards Unit in Paracelis. The organization caters to banana farmers residing in Paracelis. One of his main tasks as president is to work with stakeholders to improve banana farming in the municipality while also taking care of the environment through their alternative farming ways.
As the president, he was also able to attend seminars on Financial Literacy, Market Mentoring and Coaching, and many more through the aid of the Japan Social Development Fund. Aside from PAFDA, he also is active in some Municipal Organizations such as MATAGUAN Organization, Farm First Association, and Licoy Organization. He also actively participates in community activities during fiestas and Indigenous Peoples Month celebrations.
Woman behind the man's success
Having nine children is not easy but Erwin admitted that it had been easier with his wife Astrophel. One of the greatest challenges they encountered is when her daughter got pregnant in 2015 and had to leave her studies for a year to take care of her newborn. When asked how he handled it, he shared that rather than acting violently towards his daughter, he explained to her the importance and disadvantages of getting pregnant at an early age and the how-to's for the pre and post pregnancy.
"Agasem man nu dayta lang nga banag iti pagsardengan na nga ageskwela, kaya mi pay met nga anusan ti apo mi tapnu makaeskwela isuna" (It would be too much, if that will be the only reason for her to stop schooling. We can still manage to take care of our grandchild so she can continue her studies)," he added.
As a father and a man of the Cordillera, Erwin is expected to act superior to women. But he has shown that it is not only in that way that a man becomes successful. Erwin has been committed to impart his knowledge and experience not only to his family but also to his fellowmen. He is thankful for the FDS topics on Gender Sensitivity, Women's Rights, and Anti-VAWC because these have helped him understand and taught him how he can help in promoting women's welfare by being an advocate.
"Uray ibaga tayo nga napigpigsa ti lalaki keni babae, adda latta banbanag nga madi maaramid ti lalaki nga babae lang ti makakaya (ag-anak, ag-sikog, ag-ginaw), dagita iti highest form of respect we could give them ta we know met nga you cannot succeed on your own and that each sex has its limitations. Masapul nga adda latta ni asawam nga katulungam nga agbiag, agparticipate kami met iti trabaho iti maysa, agtinulong kami nga talaga. (Even if we say that a man is naturally stronger than a woman, there still are things that only women can do (conception, pregnancy, and child birth) and that I think is the manifestation of the highest form of respect. We also need to participate in each other's work and always work hand in hand)," he said. #DSWD-CAR, SOCIAL MARKETING UNIT, Phylein Maria Rosette U. Callangan