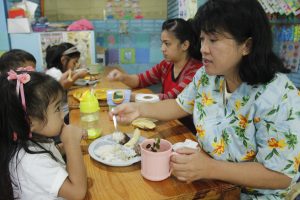 Baguio City- It all started from a Tarzan movie she watched when she was just six years old which has now turned into the life-long devotion of Teacher Miriam of Camp Dangwa Day Care Center.
Miriam S. Botongen, 49 years old, finished Bachelor of Science in Theology with specialization on Child Training and Nursing Aid. As she shared, teaching has always been in her veins. But her love for children maybe the blood running through these.
"My heart for children started when I was six years old when I took care of police children here in Camp Dangwa. Since then, it was always been my passion. In church, I teach in the Sunday school. I started teaching when I was still single", Teacher Miriam shared.
But in 1991, Teacher Miriam had to stop to fulfill her duties as a wife and a mother.
"When I got married, I had to stop to be a full time wife and mother to my four children", she shared. "But I never lost my eagerness to teach again in the day care center. I continued praying", Teacher Miriam added.
In 2009, Teacher Miriam's prayer was answered. She was able to get back as the Teacher of Camp Dangwa Day Care Center.
Teacher Miriam and her day care family
Teacher Miriam shared what inspires her. "As a day care worker, I am the 2nd mother to these children. With this, I am given the opportunity to be part of their lives", she said.
However, it is not always easy for her. As a Day Care Teacher, Miriam also faces challenges involving her day care family.
"It is difficult to encounter cases of child abuse in my day care children. Also, it is challenging to handle cases of single parents. But we are able to provide proper intervention in partnership with the police" Teacher Miriam shared.
Despite these, Teacher Miriam remains committed to continue teaching in the Day Care Center.
"As a Day Care worker, there are many challenges along the way, but just have faith in yourself and in God. Also, we have other people to help us", she shared. "I have prayed to God that I become a blessing to others and I feel that through this, I am able to fulfill the realization of this prayer", she added.
Teacher Miriam is among the Day Care Workers who continuously perform their duty regardless of the amount of honorarium that they receive in exchange of such. It is through them that our Early Childhood Care and Development or Day Care Centers are able to cater and contribute to the development of our three to four year old children.
This story is not only to recognize Teacher Miriam but also to salute and express gratitude to all our Day Care Workers who do their work with commitment and passion only for the love of children. #DSWD-CAR, SOCIAL MARKETING UNIT, Nerizza Faye G. Villanueva