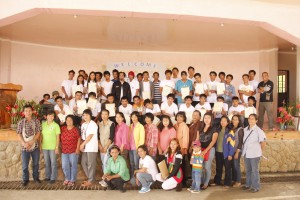 Cordillera Administrative Region- "Kayat ko nga maka-eskwela dagitti kakabsat ko nga babae nga ub-ubing ngem syak ta madik nga agtrabaho da idyay garden ta narigat iti trabaho idyay (I want my younger female siblings to go to school because I don't want them to work in the farm because it is hard to work there)", 21-year old Lemar Sagandoy shared.
"Kayat ko nga dak-dakel iti maitulong ko iti pamilyak. Kayat ko met nga maipakita nu anya ti kayak nga aramiden (I want to give more assistance to my family. I also want to show them what I am capable of doing)", 23 year old Mary Rose Somera said.
These were the answers of Lemar and Mary Rose when asked on their aspirations. Both are from Pantawid Pamilyang Pilipino Program households in Kapangan, Benguet.
Their families belong to the 50 Pantawid Pamilya households that have been granted the opportunity to undergo the skills training funded under the Sustainable Livelihood Program (SLP) of the Department of Social Welfare and Development (DSWD).
Together with other employable members of the Pantawid Pamilya households, Lemar and Mary Rose attended and passed the Scaffold Erection NCII Training for 20 days. In partnership with the Local Government Unit (LGU) of Kapangan, Benguet Vocational School (BVS) Colleges, Technical Education and Skills Development Authority (TESDA)- Benguet, and the Department of Labor and Employment (DOLE) Cordillera, the participants started their skills training on 20 May 2016. Aside from the technical skills, the participants were also able to undergo the life skills training where they were assisted in preparing their bio-data. They also underwent mock interviews to prepare them in upcoming employment interviews.
"Naragsak ak ta kunami nu dagiti kakabsat ko lang nga Pantawid [beneficiaries] ti matulungan. (I am happy because all the while, we thought that only my siblings who are Pantawid [beneficiaries] will be able to benefit from the Program.) I feel lucky with the opportunity to be trained para makahanap ako ng mas maayos na trabaho", Mary Rose added.
Meanwhile, Lemar, who had been a Pantawid Pamilya beneficiary himself, sees the training as continuation of the blessings he has received from the Department. "Naragsak ak ta ada pay latta iti maitulong da kanyak uray nalpasakon nga Pantawid. Daytoy ket mainayon ko dagiti certificates ko pay iti sabali nga training ket bareng maymayat iti sumrek nga trabaho. (I am happy because I am still continuously benefitting from Pantawid even if I have already graduated from the Program. This will be an addition to my certificates and I hope that this will lead to better job opportunities." Lemar shared. He was able to finish a short term course on electrical installation maintenance.
"Unaek pay nga makalpas dagitti kakabsat ko. Amin nga sakripisyok ket parakenyada ta nakapsoten ni nanang ken tatang ko nga agtrabaho. (I will let my siblings finish their studies first. All of my sacrifices are because of them since my parents are already weak)", Lemar said.
"Ngem nu adan to ti tiyempo, kayat ko met kuma ti ag-eskwela (But if opportunity comes, I also want to go back to school)" Lemar added as he builds new hopes not only for his family but also for himself.
"We are very hopeful that our scaffolding graduates will be able to fulfill their dreams through the skills that we have provided them. With the help of our project development officers, they are being linked to different construction companies. We have also been informed that there are shipyard companies in need of individuals trained on scaffolding, thus, these are also our target employers for our graduates", DSWD-CAR OIC Regional Director Janet P. Armas shared.
The Sustainable Livelihood Program (SLP) is one of the poverty alleviation programs of the Government which provides capacity-building trainings to improve the program participants' socio-economic status. Under the program, the participants may undergo skills enhancement activities. After the training, the DSWD will provide necessary assistance to the participants whether be on micro-enterprise development or employment facilitation.
Since 2011, the SLP is able to serve around 395 program participants in Kapangan, Benguet. In the Cordillera, a total of 18,433 program participants have been served. #DSWD-CAR, Social Marketing Unit, Nerizza Faye G. Villanueva