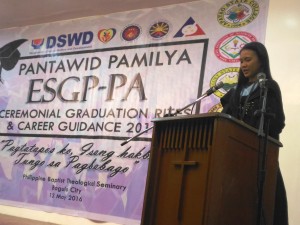 This is a story of a girl whose love for learning was tested by life's trials. This is also the story of how and why she managed to get over these and be able to bring honor to her family. This is the story of Christina Pa-a.
"Trials are not reasons to give up but challenges to move forward". This is a quotation which serves as my guiding principle in facing all the challenges and obstacles life has to offer.
I'm Rhea Cristina Alvis Pa-a and my story began on the 16th day of February 1996 in Barangay Bio, Lagangilang, Abra. My father, Crisanto Pa-a, is a very hard-working farmer. His burned-out skin and the calluses on his hands are evidences of his hardships and love for us. I also have a very caring, patient, and loving mother in the name of Maria Pa-a. She was the first one who taught us to read and write. She showed us how it is to be humble and friendly. She taught us to always believe and talk to God.
There are six children in the family and I am the fifth child. My kuya Anthony, ate Diana and ate Marie Cris have their own family now. Ate Irish graduated last year with the degree of Bachelor of Elementary Education and our youngest, Jayson, will be graduating this school year with the same course. Being blessed with the family bonded with strong love, I have nothing to ask for. Yes! We are not rich in money but we are in two things which nothing and no one could ever destroy and steal, LOVE and RESPECT for each other.
I was five years old when I entered kindergarten at Barangay Tagodtod, Lagangilang, Abra. Like any other child, I hated school. But my parents didn't stop instilling in my heart and mind how important education is. Through the help of my passionate teachers and friendly classmates in elementary and high school at Tagodtod, I have learned not only to enjoy schooling but also to love it. Missing classes made me feel incomplete. So, even I was sick or not feeling well, I would still go to school. And sometimes, even if I had to walk from our house to our school with only five (5) pieces of coco biscuits as my baon for the whole day, I would still go. I never complained because compared to the struggles of my parents, mine was nothing. They endured the heat of the sun. They didn't mind body pain. Their resting time was spent taking care of us.
To make up for the sacrifices of our parents, I and my sibling also worked hard to receive awards in school every year.
Graduating as the valedictorian both in elementary and high school made me proud not of myself but of my parents. They were the reasons behind my success. Every time, my tears fall as I watch them go on stage to accompany me in receiving my medals and scholarship from different state colleges and universities. I am very proud to let the whole world know that they are my parents.
When I graduated in high school, I decided to take up Bachelor of Elementary Education at Abra State Institute of Science and Technology (ASIST) in Lagangilang, Abra. Since I received an ASIST Scholarship Award (ASA) when I graduated, my tuition fee was free.
Everything was perfect until September 17, 2012 came. My colourful life turned the other way around. It was the darkest day for my family, with the passing of my dear mother because of a serious disease. Challenges became so much harder to fight and the pain of losing her almost brought me down. It was very hard for me to open my eyes everyday without seeing one of my reasons why I'm studying hard. I didn't want to wake up and stand. I didn't want to go to school. I was always absent minded. I wanted to stop pursuing my dreams. But then, I saw this man standing and acting so strong in front of me. There was smile on his lips but pain and sorrow in his eyes. I realized I still have this man with me, I still have my tatang. I still have a reason to live. I tried to wake up with a more positive outlook in life. Instead of thinking about what I have lost, I have to treasure what I still have.
Sending ate Irish, Jayson and I to college became harder for tatang. He worked seven days a week. He didn't want us to stop going to school. We know that his body was already tired and was giving up, but he never did. He is indeed the best father and we are very lucky to have him.
Before my third year in college started in May 2014, something surprised me. I was chosen as one of the ESGP-PA (Expanded Students' Grants in Aid Program for Poverty Alleviation) scholarship grantees of Pantawid Pamilya Pilipino Program. They refunded the expenses since my first year in college. The scholarship promised to help and support my studies until I graduate. I studied harder to prove that I deserve this blessing. It was a great help not only for me but also with my sister and younger brother.
April 1, 2016 was the start of a brighter tomorrow for me. I received my diploma with flying colours. I was one of the students who graduated with honours and I also received Student Teacher and Student Researcher Awards.
Seeing how happy and proud my father was on that day was the best gift. All the sacrifices and hardships were paid off.
Trials in life are very hard to face but they are indeed the best teachers. Facing them will teach you a lot and will make you stronger. So, never ever give up. Keep on dreaming. God is always with you. He will help you find way to achieve whatever your heart desires or dreams. Never stop believing! #DSWD-CAR, Social Marketing Unit, Nerizza Faye G. Villanueva, as told by Rhea Christina Pa-a