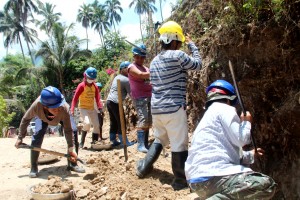 The municipality of Pasil is known for their coffee production aside from being a producer of the heirloom rice varieties such as Unoy and Ingtan, which have high demand in the international market.
Since it is a coffee producing town, a visitor would get more than enough of coffee as every house have their thermos-filled coffee always ready. As a sign of their hospitality, they would always serve a cup of flavourful homemade coffee. A visitor is expected to drink the coffee being served as sign of accepting their generosity and friendliness.
No one can question the people's love for coffee in this town as this is deeply rooted in their culture.
Brewing Conservation (and Change)
Unlike other development activities which sometimes take its toll on the environment, the construction of the access road in Barangay Pugong did not mean cutting the trees, including coffee trees along the sub-project site.
Under the Kapit-bisig Laban sa Kahirapan Comprehensive and Integrated Delivery of Social Services (Kalahi-CIDSS) Project of the Department of Social Welfare and Development (DSWD), the trees were fully protected by the community as they worked on the project. Instead of using heavy equipment, the community opted to manually excavate and haul the soil even if it meant harder and longer work.
"We wanted to protect and lessen the damages to the coffee trees and other trees which might be harmed during the excavation," Peter Diwayan, a Community Volunteer and Barangay Kagawad said in vernacular.
He claimed that their coffee produce is decreasing each year, thus they have to take care of the productive coffee trees. A coffee tree would take three to five years to mature and bear fruit.
"Bumasbassit tadta ti apit isunga kasapulan mi met lang nga agreserve ti pangmaysa nga tawen koma(our [coffee] production is decreasing now that's why we need to store for our consumption for a whole year if possible)," Diwayan added.
Bitter-sweet Kalahi-CIDSS experience
Pasil engaged with Kalahi-CIDSS in 2012 and since then has become a performing municipality with the LGU's active participation in grievance resolution applying indigenous practices. Earlier this year, they received an incentive grant from the Millennium Challenge Corporation (MCC) through Kalahi-CIDSS.
However, just like any other community, Barangay Pugong and the Municipality of Pasil were not exempted from challenges. The community volunteers and the Municipal Local Government Unit (MLGU) experienced some challenges before and during the sub-projects implementation.
With the PhP 6, 463, 746.94 incentive grant, it became a challenge to complete six sub-projects alongside with two Cycle 4 sub-project within the set deadline.
The MLGU troubleshoot this problem by assigning engineering staffs to monitor and provide technical assistance to all barangays where the sub-projects are being implemented.
Another challenge involved the well-loved coffee trees in the municipality. In Barangay Pugong where the coffee trees and the environment is as important as constructing an access road or any infrastructure, their decision to manually excavate and haul the soil showed their understanding on cultural and environmental conservation in pursuing development.
This frame of mind has been further developed by the Thematic and Environment Management Systems concept of the Kalahi-CIDSS Project where communities use their own tools to analyze and address environmental issues and risks.
Pugong is one of the fourteen barangays of the municipality of Pasil. It is one of the nearest barangay from the Municipal Hall however it is not reachable by any means of transportation because of the lack of access road. To reach the area, one must take a 20-minute hike through the footpath, another Kalahi-CIDSS sub-project funded under the MCC.
For years, the residents could not construct a concrete house because of the high cost of hauling of materials. The residents need to pay 40 pesos per bag of cement and 30 pesos per can of sand to be hauled from the entrance to the main community which would be an added expense for those who want to build concrete houses.
This problem has now been addressed after the construction of the access road in Brgy. Pugong.
Moreover, students can now ride on a jeep going to school in Barangay Amdalao and the long records of students getting absent became shorter. The project has also provided temporary employment to the community. Women have actively participated in paid labour for two days.
"We, as women are happy that the labor for men and women are the same. At least we will have something to give our children who are studying," Imelda Bergancia, one of the paid labourers, shared.
Moreover, Diwayan acknowledge that with Kalahi-CIDSS, he has seen huge potentials of women that he did not recognize before. He now thinks that [women] are not only industrious but are physically strong enough to work in construction-related works.
The project has also brought the community together as they practiced angkas (bayanihan system) as their counterpart for the project. With a total project cost of PhP 2,358,000, the sub-project is 93% complete as of May 11.
"If there is one thing that we learned in Kalahi-CIDSS which we can apply in our future activities is giving counterparts," Diwayan beamed.
The experience of Brgy. Pugong in Pasil, Kalinga is a proof that culture and environment need not to suffer for development. With proper thinking and actions, coffee, culture, and conservation can brew into a positive change. #DSWD-CAR, SOCIAL MARKETING UNIT-Jasmin Kiaso with Community Facilitator Joan Banag