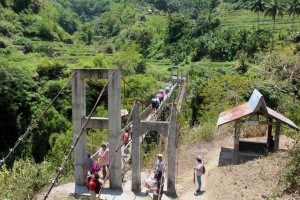 Researchers from the University Research Corporation (URC) visited Kalahi-CIDSS areas in the Cordillera to assess the sustainability of the sub-projects in terms of structure quality and services delivered including the operation and maintenance mechanisms of the stakeholders.
In a three-day course, the URC team conducted focused group discussions, interviews to the beneficiaries, community volunteers and the Municipal Inter-agency Committee.
They also went on site-visits in Barangay Dangtalan in Pasil, Kalinga and in Barangay Sumadel and Barangay Ambato in Tinglayan, Kalinga  which are identified as Geographically Isolated and Disadvantaged Areas or GIDA which is one of URC's criteria in choosing sample areas.
The visited sub-projects are cable footbridge, Barangay Health Station and river control which are representations of basic access infrastructure, basic social access and environmental protection respectively.
Final result of the assessment will be released after the review of documents of other sample areas in Apayao.
URC was commissioned by the Millennium Challenge Corporation of the United States of America to conduct the study in six regions in the Philippines, one of which is the Cordillera Administrative Region. #DSWD-CAR, SOCIAL MARKETING UNIT, Jasmin Kiaso