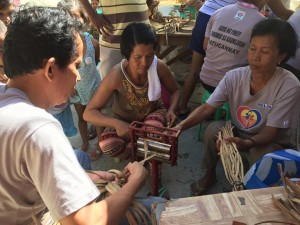 Around 73 SLP program participants from Barangays Patucannay and Macray, Bangued, Abra were trained on Water Lily Processing in partnership with Villar Sicap Foundation.
The project was funded by the Department of Social Welfare and Development  through its Sustainable Livelihood Program (SLP). A total of Php 172,324.40 was allotted for the supplies and training expenses of the project. Villar Sicap Foundation provided the skills training and two pressing machines.
Aside from promoting livelihood and employment on water lily industry, the project is designed to protect the environment and promote the use the of indigenous materials.
The livelihood project is expected to benefit around 179 program participants.