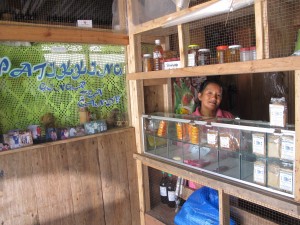 Cordillera Administrative Region– A farmer turning into an entrepreneur might be a common story, but not for Ligaya Layyag who has waited five years to make this into reality.
Ligaya Lamaton Layyag is a 53-year old farmer from Banao, Natonin, Mt. Province. She has eight children whom she and her husband raised out of their income from farming.
"Ag-taltalon kami, ngem nu daduma, dyay ma-produce mi ket umanay lang nga iusar mi. (We do farming for a living but sometimes our produce is just enough for our own consumption.)", Ligaya reminisced.
With the situation, the family has been included in Pantawid Pamilyang Pilipino Program in 2008. Two of her children are under the said program since then. Aside from the grants that the family has received, Ligaya was given the opportunity to serve as one of the parent leaders of the said Program. As a parent leader, she was able to undergo skills enhancement activities.
"Idi nagbalin ak nga parent leader, nasurok iti self-discipline lalo kas maysa nga ina. Agsusublat kam nga agbalin nga parent leader tapno maka-adal met iti daduma. Tapno dagigay sumarsaruno, ma-apply da met ti masursuro da (When I became a parent leader, I learned self-discipline especially for being a mother. We take turns in being a parent leader so that others may have the opportunity to learn and apply the things that they have learned.)", Ligaya shared.
Through the Department of Social Welfare and Development's (DSWD) Sustainable Livelihood Program (SLP), the doors of entrepreneurship opened for Ligaya in 2011. Ligaya was granted a loan of Php 8,000.00 then.
"Ginger tea iti imuna nga product ko. Nag-training ak under DA [Department of Agriculture], DTI [Department of Trade and Industry] ken DSWD. Idi 2014, nakaala ak ti food processor gapu iti SLP. Idyayen nga nakaaramid ak ti adu. (At first, I produced ginger tea. I trained under the Department of Agriculture, Department of Trade and Industry and DSWD. It was in 2014 when I was able to acquire a food processor. With that, I was able to produce more)" Ligaya recounted.
In 2015, Ligaya was able to undergo training from the Department of Science and Technology which capacitated her on product enhancement. From just making ginger tea, Ligaya is now able to produce fruit vinegar, pineapple preserves, ginger candy and ginger pulvoron. Currently, Ligaya is working on producing muscovado sugar and processed root crops.
"Nag-undergo ak ti training under TESDA [Technical Education and Skills Development Authority] ket nakaala ak ti NC II on Food Processing", Ligaya shared.
Aside from developing her products, Ligaya has been tapped by TESDA to teach in other barangays. She has been paid Php 55.00 for doing it. "Haan met lang nag dyay sweldo ngem maragsakan ak nga ada met makitak nga makaaramid dyay naaramid ko. (It is not just the honorarium, but I am glad to see others able to do what I was able to achieve.)", she added. Ligaya was then awarded a certificate of competency because of this. She is also working with her co-members by tapping them as producers while she and other members become the processor for their raw produce.
"Naragsak ak ta despite of all odds, adda akon ditoy. Five years in the making daytoy, finally adddan. Iti kitkitaek ditoy ket mapan iti pag-eskwela dagiti anak ko. Ada iti duwa nga high school ko tatta ken maysa nga college. (I am happy because despite all odds, here I am now. This has been five years in the making, finally it is here. My income from this goes to my children's education. I have two high school [students] and one college [student].)", Ligaya shared.
Through the assistance Ligaya and her family has received, they are now expecting a first graduate in the family, Jealux who is already in his 4th year under Bachelor of Science in Agriculture at Benguet State University.
Ligaya and her family prove that assistance if properly utilized can change lives. Despite the difficulties while waiting for the opportunity, they are now reaping the fruits of their hard work and perseverance. What is much more important is that Ligaya is now able to give back to the people who were once like her. She is now able to help in opening doors for others to become entrepreneurs for them to build better future.  # DSWD-CAR, Social Marketing Unit, Nerizza Faye G. Villanueva