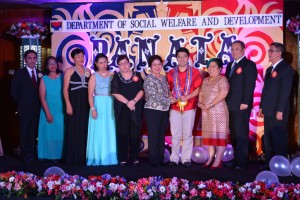 Cordillera Administrative Region (CAR)– The City Government of Baguio bagged one of the awards of Department of Social Welfare and Development (DSWD) for outstanding local government units under the "Pagkilala sa Natatanging Kontribusyon sa Bayan" (PaNataKo sa Bayan) Awards during the 65th Founding Anniversary of the Department on 28 January 2015.
Baguio City was conferred the Gawad Listahanan under the City Government Category for providing services and assistance to the Listahanan-identified poor. The said award is conferred by the DSWD, through the National Household Targeting System for Poverty Reduction (NHTS-PR), also known as Listahanan.
In 2014 to 2015, Baguio City funded under its Bottom-Up Budgeting process and local funds the skills enhancement and employment of 154 youth for the second round of household assessment in the city in partnership with the DSWD. As a result of the said activity, an updated database of households in the city was established whereas 2,085 households were identified as poor.
"The identified poor households are now our focused targets in the succeeding projects that the city government has. Right now, they are the recipients of our National Certificate (NC) II training project with TESDA and Baguio City School of Arts and Trades (BSCAT)," Baguio City Social Welfare and Development Officer Betty Fangasan said.
"Let me congratulate the entire team of the City Government of Baguio including those from the DSWD Field Office CAR in implementing our projects. We just did what we thought was right for the City of Baguio by choosing the said activity for our constituents. This award proved that the projects were effective as it has provided opportunity to our constituents to be employed likewise. We never thought that it will be recognized by the national government through the Gawad Listahanan," City Mayor Mauricio G. Domogan said.
Baguio City took home 50,000 cash prize and a plaque. Other awardees of Gawad Listahanan are Iloilo Province and Jaen, Nueva Ecija under the provincial government and municipal government categories respectively.
With the conclusion of the nationwide Listahanan second round of household assessment, Secretary Corazon "Dinky" Soliman expressed her gratitude to all partner stakeholders in facilitating processes for people empowerment and their ability to improve the quality of their lives. Furthermore, Soliman emphasized the importance of good governance in helping the poor and marginalized sectors.
"It really is important to say that good governance is not just the government doing its work, it is about partnerships and citizens acting together with the responsive government both at the local and national level to achieve the transformation and changes of the lives of the poor and marginalized," Soliman added. # DSWD-CAR, Social Marketing Unit, Kaye Ann O. Mapalo