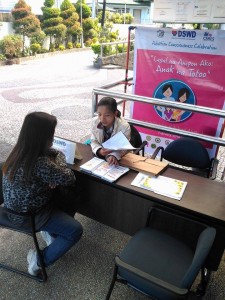 Cordillera Administrative Region– The Department of Social Welfare and Development (DSWD) here has recorded the improved implementation of the Alternative Parental Care Program (APCP) in the region.
Focal Person EdelineGenove said that there was an increased in the number of adoption and foster care cases for 2015. "Based from our reports, there is a 100% increase in the number of licensed foster care parents in the region. From 24 in 2014, we now have 48 licensed foster parents in2015. Same with adoptive parents, we only have 6 in 2014 but we 14 adoptive parents developed and matched", Genove added.
The implementation of the APCP which involves adoption and foster care is being spearheaded by the DSWD in partnership with the Local Social Welfare and Development Offices, Non-Government Organizations, Civil Society Organizations and other National Government Agencies. Through APCP, children who are declared to be legally available for adoption undergo processes to be replaced in a foster care home or to be adopted.
"What is notable in this improvement is that we are able to provide families and homes to more children. More abandoned, neglected, surrendered or orphan children are now able to experience how it is like to have a family. More are now able to exercise their legal rights as children", DSWD OIC-Regional Director Janet P. Armas shared.
This is in consonance with this year's theme for the Adoption Consciousness Week celebration which is "Legal na Ampon Ako: Anak na Totoo (A Child Finds Worth in Legal Adoption). The said celebration is being observed every February in accordance to Presidential Decree N. 72 issued on February 3, 1999.
"By legally adopting children, we are able to give them all the rights and privileges of legitimate children. With this, we are able to protect them from various forms of exploitation or disadvantages". Dir. Armas added.
Meanwhile, foster care allows children to experience family care while proper permanent placement (adoption or return to biological parent/legal guardian) is being processed. Children under the foster care program are being placed in a licensed foster parent for a maximum of six (6) months.
Adoption, on the other hand, is a socio-legal process of giving a permanent home to a child whose parents have voluntarily or involuntarily given up their parental rights.
"Unlike birth simulation, or directly registering a child using the surname other than his/her biological parents, adoption allow the child to gain all rights similar to that of biological children." Dir. Armas added.
Individuals who have queries on this matter may visit the Adoption and Referral Resource Section, DSWD Field Office CAR located at # 40 North Drive, Baguio City or may call (074) 444-32-62 # DSWD-CAR, Social Marketing Unit, Nerizza Faye G. Villanueva