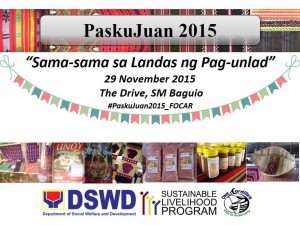 Baguio City- The Department of Social Welfare and Development (DSWD) through its Sustainable Livelihood Program (SLP) will again conduct a holiday bazaar dubbed as PaskuJuan with the theme "Sama-sama sa Landas ng Pag-unlad". on 29 November 2015 at SM City Baguio Rambakan Drive from 9:00 AM to 5:00 PM.
The PaskuJuan is a nation-wide holiday bazaar which serves as a platform where Sustainable Livelihood Program participants present their products to the general public. Around 26 micro-entrepreneurs from all the provinces of the region who are being assisted by the DSWD will be participating in the said activity.
Through the SLP, the participants have undergone various capacity building activities including project proposal making and skills enhancement trainings under the micro-enterprise development track. They have also been allowed to avail of seed capital fund which is used by the participants to support their enterprise.
"Our participants are allowed to avail of our seed capital fund, but they are also expected to give it back to the office through a rollback scheme. They are allowed to pay back within two years. This scheme encourages them to continuously work hard in sustaining their enterprises", SLP Project Development Officer Victoria Llanes shared.
Payments made by the SLP participants from the profit of their micro-enterprise are then being circulated for the use of new SLP participants.
Meanwhile, DSWD-CAR OIC Regional Director encouraged the public to visit the one-day holiday bazaar at SM City Baguio. "We would like to encourage everybody to support the PaskuJuan because this will help our partner beneficiaries in marketing their products. This is also a venue for us to celebrate the efforts of our partner beneficiaries towards self-sufficiency", Director Armas added.
The Sustainable Livelihood Program is one of the poverty reduction programs of the Department which aims to economically capacitate Pantawid Pamilya beneficiaries through the Community Driven Enterprise Development (CDED) approach. Through the said program, the Department aims to empower the participants by providing them their own livelihood using the micro-enterprise development track and employment facilitation track which aims to help get skilled program participants employed. # DSWD-CAR, SOCIAL MARKETING UNIT, Nerizza Faye G. Villanueva