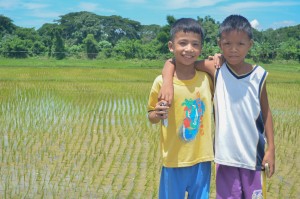 La Paz, Abra – Located in the northern part of the Cordillera region, this upland municipality is home to over 14,000 people of diverse ethnoliguistic tribes dominantly of Ilocano and Tingguian origin.
Contrary to its name, La Paz, which meant peace, experienced gun violence in this once peaceful town due to political turmoil.
However, efforts poured in the recent years by the government and civic organizations contributed much to its gradual decline in the recent years.
With a violent past shadowing this fifth class municipality, people here are slowly turning their focus on education with high hopes on the younger generation to shed brighter light and eventually lift them from poverty.
"The children of La Paz have all the equal potentials of becoming great leaders and excellent professionals," Rolando Blanes said. A native son of La Paz, he chose to serve his own people at his residence in barangay Toon as a teacher for over two decades before promoted to principal in adjacent barangay Bulbulala in 2011.
Library of hope
Having spent nearly half of his life in La Paz' public schools, Blanes was a witness to the plight of children especially in the town's outskirts.
Bulbulala Elementary School where he is head, is the second largest school in La Paz with close to 300 students. It caters to children not only from La Paz but from the neighboring towns of Danglas and Dolores as well.
Despite having more than half of its students as recipients of the PantawidPamilyang Pilipino Program, Bulbulala Elementary School has turned into one of La Paz' top performing schools- even representing the province in many competitions.
It has, however, one problem – children in the said school never saw a library.
"We know what a library is but we never get to experience having one," Grade 5 student Jevin Bulda said in vernacular.
The establishment of a two-unit building intended for a library and a clinic was almost close to realization last 2013.
Under the Kapit-bisig Laban sa  Kahirapan – Comprehensive and Integrated Delivery of Social Services (Kalahi-CIDSS), La Paz was granted  a total of over P16 million by the Millenium Challenge Corporation (MCC) to implement infrastructure projects from 2011 to this year.
However, the building proposal did not reach the priority cut-off point and was shelved.
The Kalahi-CIDSS is one of the poverty alleviation programs of the Department of Social Welfare and Development (DSWD) which anchors on community empowerment and grassroots approach in implementing its projects.
"We were a little saddened because the community was pushing for it," Blanes said. In a series of consultation, the community even agreed on the site and vowed to help in its construction, he added.
However, La Paz was able to receive a blessing early this year as the Department of Foreign Affairs and Trade (DFAT) will be funding proposals to build educational institutions not prioritized under the MCC grant.
Two projects in La Paz were given grants: one is the two-unit building in Bulbulala Elementary School and a Day Care Center in Brgy. Toon.
"With the library, we can truly open more doors of learning through books and equip our children the knowledge they can use in the future. After all, our hopes of a better La Paz lies in our children," Grade 4 teacher Archie Pre stated.
Once fully furnished, the clinic and library will be open not only to Bulbulala Elementary School students but to nearby schools and the community as well, according to Blanes.
Basic necessity
In nearby Brgy.Toon, similar feelings of euphoria swept a small community on learning they will no longer use a dilapidated stage as a classroom soon. They, too, have proposed this project under the MCC funding of  Kalahi-CIDSS but did not also make the cut.
Day Care teacher Luisa Anquillano, 26, described it as a "very big blessing" to the community she has served for quite a few years.
Like Blanes, Anquillano opted to serve her own community despite a meagre salary of P3,000 a month. She sewed basic education in Toon as a kindergarten teacher for three years before becoming a day care teacher, now on her second year.
Typically, a Day Care classroom consists of a lot of visual materials posted across the four walls such as color charts, animated alphabets and animals, or attendance charts. But this is not the picture in this barangay.
Anquillano said classes were once held in a condemned building before it was moved in a narrow classroom shared with the kindergarten. This year, they transferred to the small stage of Toon Elementary School with only a roof and a wall on one side of the building separating the users from the elements, but it is the only space available.
Without the 2-by-3 foot plain chalk board, it looked like a scene from a children's mini play tea party.
Carmelita de Dios, 64, knew very well the hardship of getting basic education here.
"Classes are cancelled even if it only drizzles a little because the wind sprays rain on the children," de Dios lamented.
On school days, she checks on the weather before accompanying her granddaughter Kristel, 4, walking 500 meters to school as she has done for the past six years. Kristel is her sixth grandchild to escort going to the very same Day Care institution.
De Dios said she made it a commitment to see her grandchildren attend and finish school.
"Right now, it is a basic necessity. If they will do well in school, they have better chances of staying out of poverty like where we are," she said.
Anquillano said the construction of the Day Care Centre would not only provide a conducive environment for learning but will entice more children to enroll. As of this writing, Toon Day Care Centre has 23 enrollees.
The two projects in La Paz were selected based on the local government unit's willingness to provide a financial counterpart. These will be implemented using the process of theKalahi-CIDSS Project whereas the local government unit and the community members will provide their counterpart through finance or labor. The community members will also lead in its implementation including the preparation of program of works, procurement of materials, disbursement of funds, monitoring and evaluation, among others.
The DFAT has allotted P1.088 million for the two-unit clinic and library building in Bulbulala and over P586,000 for Toon.
Like Anquillano, Blanes banks his hopes on the younger generation to get the most of education as he says could be people's key to unshackle themselves from ignorance and poverty.
"As they say knowledge is power and one thing is for sure, knowledge from education can never be stolen," Blanes said with a smile. # DSWD-CAR, SOCIAL MARKETING UNIT, KARLSTON S. LAPNITEN