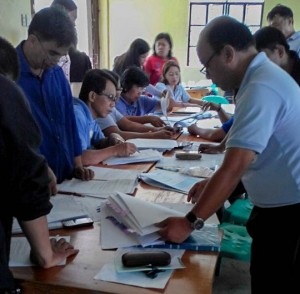 Advocating for a more empowered municipality before the year ends, representatives of all 19 barangays of Tadian, Mt. Province recently converged to thoroughly review documents for the smooth implementation of community-driven projects of the Department of Social Welfare and Development (DSWD).
Tadian Mayor Anthony Wooden facilitated the 3-day technical review of project proposal documents for the Kapit-Bisig Laban sa Kahirapan-Comprehensive and Integrated Delivery of Social Services (Kalahi-CIDSS) Project of the DSWD.
"It is the first [time] for us to avail of such kind of project, that's why we need to ensure all documents and requirements are complete," Wooden said.
Last year, the Mayor inked a memorandum of agreement with the DSWD formally enrolling his municipality in the Kalahi-CIDSS, a project which aims to empower the grassroots by giving them involvement in the planning and implementation of sub-projects.
Following a given process guide, Tadian is now close to choosing its priority projects from the barangay proposals after the technical review of document. The activity is part of the Community Empowerment Activity Cycle (CEAC), the main tool in the project's implementation.
"It was a first time we encountered a mayor leading the technical review of papers for the Kalahi-CIDSS," Community Development Officer Dominga Tangkawan commented.
Wooden said the community-based approach of the project enticed him to take on the DSWD project adding it will help strengthen the participation of the community folks in government programs and activities.
The CEAC involves all community members who are interested to participate in identifying and prioritizing community problems and issues, as well as in giving solutions to the problems.
Tadian has been granted around Php 8.5 million for the first cycle under the Kalahi-CIDSS Project. The said municipality started to implement the Project April this year as one of the 33 municipalities in the region implementing the Kalahi-CIDSS Project. #DSWD-CAR, SOCIAL MARKETING UNIT, Karlston Lapniten