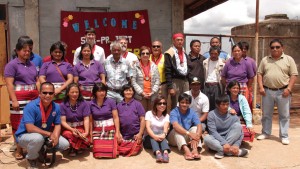 Cordillera Administrative Region – The Department of Social Welfare and Developmentthrough its Kapit-bisig Laban sa Kahirapan – Comprehensive and Integrated Delivery of Social Services (Kalahi-CIDSS) program will be implementing community-driven development (CDD) projects amounting to a total of PhP 40,500,000.00 additional grant in six (6) municipalities here. These covers the municipalities of Bucay, Abra, Asipulo and Tinoc, Ifugao, Pasil and Tinglayan, Kalinga, and Besao, Mt. Province.
The municipalities have been identified as exemplary municipalities in CDD implementation, thus awarded with the additional grant to be used for one (1) additional cycle in the implementation of the Kalahi-CIDSS project.The grant comes from the Millennium Challenge Corporation (MCC) through the Millennium Challenge Account-Philippines (MCA-P).
"These municipalities have been identified as champion LGUs in the implementation of CDD projects. Even with the foreseen constraint in the timeline, we are confident that they will be able to finish their proposed sub-projects for the additional cycle as they have shown their capacity in implementing the project – the main reason they have been given additional grant," MCA-P Kalahi-CIDSS Director Andy Moll said.
"The dream is for our municipality to become a 1st class municipality. Through Kalahi-CIDSS, we hope to make that dream come true. With the additional grant and the cash counterpart from the MLGU, we are moving one step towards that dream," Pasil Vice-Mayor Ellen Malannag shared, expressing her gratitude. Pasil is a 5th class municipality of Kalinga where most of their income comes from farming, small scale mining, and production of softbrooms and bamboo crafts.
"It makes us proud that these municipalities are recipients of the additional grant and their efforts to champion in CDD implementation has been rewarded. With the six municipalities implementing the additional grant, we have more than 75,000 people to benefit from our projects," DSWD-CAR OIC Regional Director Janet P. Armas said.
Of the Php40.5 M grant, Bucay, Abra will be receiving PhP 9.45M; Asipulo, Ifugao – PhP 4.050M; Tinoc, Ifugao – Php 5.4M; Pasil, Kalinga – PhP 6.3M; Tinglayan, Kalinga – PhP 9M; and Besao, Mt. Province – PhP 6.3M.
14 municipalities in CAR under the MCC modality are currently completing their Cycle 2 and Cycle 3 projects. To date, 194 were already completed out of the 323 sub-projects in CAR, while the remaining are set to be completed before July 2015.These sub-projects have been identified by the community and were prioritized through the Municipal Inter-Barangay Forum – Participatory Resource Allocation (MIBF-PRA). Currently, the six municipalities are already on the Social Preparation and Community Planning Stage on their additional cycle where they are again set to identify their priority projects.
Kalahi-CIDSS is one of the core poverty alleviation programs of the government implemented through the DSWD. The program follows the Community Empowerment Activity Cycle (CEAC) which involves the community in local planning and decision-making, budgeting, project implementation, and monitoring. #DSWD-CAR, SOCIAL MARKETING UNIT, STRELLE C. QUEJADO