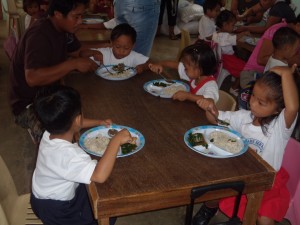 Cordillera Administrative Region (CAR) – All seventy seven (77) municipalities here have received a total of Php 70,356,000.00 for the implementation of the Department of Social Welfare and Development's (DSWD) Supplementary Feeding Program (SFP).
According to SFP Focal Person Edeline Genove, all of the LGUs have already completed the 120 days/6 months of feeding the children beneficiaries. However, LGUs with completed nutritional status and liquidation report will be eligible to receive the funding for the implementation of the 5th cycle of SFP which will start by June this year.
The SFP is among the programs of the Philippine Government that aims to diminish malnutrition and hunger of children coming from poor families.
Under the SFP, children beneficiaries enrolled in Day Care Centers or Early Childhood Care and Development Centers are provided with hot meals composed of rice and nutritious viands made out of local produce such as vegetables, meat, and fish that are prepared by the parents organized as day care service parent group. These parent groups work closely in coordination with the day care workers and municipal and social welfare and development officers in ensuring that the meals contain the nutrients necessary for their children's development.
To monitor the impact of the said program, the beneficiaries are weighed at the start of the feeding program, three months and six months thereafter. The improvement in their nutritional status will be determined after the completion of the 120 feeding days.
SFP, which started in 2011, is the provision of food, in addition to regular meals, to currently enrolled day care children as part of DSWD's contribution in achieving the Millennium Development Goal of eradicating extreme poverty and hunger.
A total of Php 73,966,000.00 has been downloaded to DSWD-CAR for the implementation of the program's 5th this year. # DSWD-CAR, Social Marketing Unit, Nerizza Faye G. Villanueva with Jemimah Hope Ollet (UC Intern)