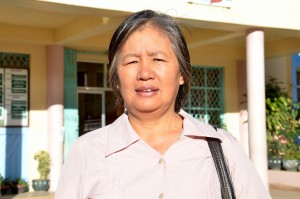 For some, the word 'elderly' is associated to limitation, retirement, less work, or frailty.
However, this is but an ordinary word for 60-year-old Elsie Lomong-oy of barangay Kin-iway, the center of the town of Besao, Mt. Province.
"It (age) is just a number and it even challenges me to do more," she expressed in local dialect, as she pulled to wear her glasses affixed against her graying hair.
Manang Elsie, as she prefers to be called, wakes up to her usual weekday routine which starts with fixing breakfast, feeding the pigs, cleaning the pen, sweeping the yard, washing the dishes, and feeding their pet dog before preparing to go to work at the barangay hall where she the treasurer or at a meeting where she is a member of an organization.
For most, it may be more than enough to keep a woman of her age occupied, but not for her.
In between juggling her work and family, as a wife to her husband Agustin and a mother-of-three, she spares time for her role as a community volunteer for the Kapit-bisig Laban sa Kahirapan Comprehensive and Integrated Delivery of Social Services (Kalahi-CIDSS), a program of the Department of Social Welfare and Development in their barangay.
Besao Mayor Wellington Pooten has nothing but good words for the elderly lady.
"Elsie is a very active member of the community. She joins all organizations and does not ask for any incentive or pay for what she does," he said.
Program Area Coordinator Roxan Ramirez has similar words for the soft-spoken lady.
"Manang Elsie is one of the most active members of the community and she is very transparent especially in paper works, I never noticed any problems on her work," she stated.
Manang Elsie became a community volunteer in 2012 when the KALAHI CIDSS was being implemented in Besao for the second cycle.
She said it was the system of how the program was being implemented that initially attracted her like many others who tried volunteering.
"It was different from other government projects. We really have control over our sub-projects and how it is implemented. We were involved," Manang Elsie stated.
However, many did not last as community volunteers, she lamented.
There was a lot of work done yet it was without compensation which dissuaded many of the early volunteers, Manang Elsie said. However, she stayed for one reason – her community.
"I value my community. I want it to be developed from within, for people to see the value of development," Manang Elsie said.
Initially, she was a member of the Project Proposal Team where she said she learned how to make proposals and process them. Currently, Manang Elsie is a member of the Bids and Awards Committee.
"I thought I was only helping the community but I realized I was also growing," she mused. The elderly lady related how she felt a strong sense of empowerment when she first stood and spoke in front of the community assembly.
She said the experiences and learnings she gained as a community volunteer of the Kalahi-CIDSS were more than what she expected.
"I keep telling others, especially the youth, that they should volunteer because they can help the community and themselves as well," she said.
On December last year, Manang Elsie was chosen as the "Best Senior Citizen Community Volunteer," a special award of the first BayanI ka! Awards.
She received the award from no less than Secretary Corazon 'Dinky' Soliman in a ceremony at AIM Conference Center in Makati City last January 23.
The award giving body is intended acknowledge contributions of ordinary persons and groups representing such community sectors, as persons with disabilities (PWDs), women, and indigenous peoples (IPs), in alleviating poverty among Filipinos.
They are dubbed heroes – 'bayani' — for placing their own communities – 'bayan' – before their own selves – 'I'.
"The picture of my community should change. Many are not willing to volunteer, but a few do. I just want to help even just a little," Manang Elsie closed.
Currently, Besao is in its fourth cycle of implementation. Also Besao was adjudged the country's best implementer of sub-projects in 2011 and 2012.# DSWD-CAR, SOCIAL MARKETING UNIT, KARLSTON S. LAPNITEN