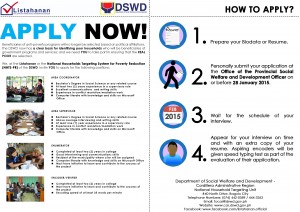 With the approval of the national supplemental budget last year, the Listahanan or the National Household Targeting System for Poverty Reduction (NHTS-PR) of the Department of Social Welfare and Development (DSWD) now prepares for the national family assessment.
The family assessment will update the database of poor households of the Listahanan in compliance with the Executive Order 867 series of 2010 or the adoption of the NHTS-PR as the mechanism for identifying poor households who shall be recipients of social protection programs nationwide, DSWD OIC-Regional Director Janet P. Armas said.
Some of the social protection programs that use the Listahanan database in identifying beneficiaries are the Pantawid Pamilyang Pilipino Program, the Sustainable Livelihood Program, and the Social Pension Program, all of which are programs implemented by the DSWD. Local government units also use the database for planning and cross checking of potential beneficiaries of their programs and services.
In the Cordillera Administrative Region, the Listahanan will assess about 244, 180 households – 51, 081 in Abra , 22,456 in Apayao, 60,961 in Benguet, 38,498 in Ifugao, 39,587 in Kalinga, and 31,597 in Mountain Province.
Given the number of target households, the National Household Targeting Unit of the DSWD-CAR is in need of 836 staff to conduct the assessment on March 2015. The positions to be filled out include 21 area coordinators, 102 area supervisors, 509 enumerators, 102 encoders, and 102 verifiers.
The area coordinators, area supervisors, and enumerators will be deployed in their respective areas for the whole duration of the assessment, while the encoders and verifiers will be stationed in the DSWD regional field office in Baguio City.
Dir. Armas encouraged all individuals who have proficient communication skills, have experience in conflict resolution and community work and are willing to do field work to apply for the said positions.
All interested applicants may submit their applications in the respective offices of the Provincial Social Welfare and Development Officers on or before 28 January 2015. # DSWD-CAR, Kaye Ann O. Mapalo