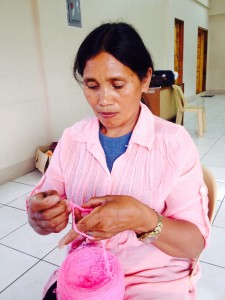 Leonila and Pio Iddoba have spent most of the days of their lives together. Having married for 31 years, the couple usually does things together as both have devoted their time in serving their communities such that Leonila served as a utility worker and Pio as a tanod in their barangay in Kias, Baguio City.
Although their five children are all grown-up, Leonila and Pio worked hard to provide for the four of their children and two grandchildren. Beyond being a provider, the couple also serves as the mother and father to their grandchildren, Christian Alvin and Chris Ann.
For the family
Manang Leonila shared that their life was never easy especially that they only receive minimal compensation from their jobs. But it was in 2011 when Manang Leonila was given the opportunity to lighten up the burden as she became a part of the Pantawid Pamilyang Pilipino Program. Her household is one of the 3,059 households in Baguio City that are able to receive monthly cash grants for being able to comply with the conditions of the program which focuses on health, education, and attendance to Family Development Session. Pantawid Pamilyang Pilipino Program is one of the lead poverty reduction programs of the Government which aims to improve the status of the beneficiaries by investing in their health and education.
Aside from the cash grants, Manang Leonila also received assistance through the Sustainable Livelihood Program (SLP). SLP is also a program of the Department of Social Welfare and Development which provides financial assistance and capacity building activities to improve the program participant's socio-economic status.
In 2012, she is among the 35 individuals in their barangay who were able to undergo skills training in rag and pot holder making under the SLP. Manang Leonila crafted her own rags and pot holders and sold the rags for 25 pesos each and 3 potholders for 20 pesos. "Sanga ribo maysa bulan lang ti awawatek ti makabulan akas utility [worker]. Manayunan met bassit ta no daduma adda met ti maala mi nga scraps nga ilako mi. Ngem makatulong ti dakkel ti panaglakok iti rags ken pot holder. (I receive one thousand pesos a month being a utility worker. Sometimes, we also get scraps that we are able to sell. But what helped us most is when I sell rags and pot holders)", Manag Leonila shared.
More sacrifices
But when life seems to get better, things became more difficult when her partner in all of life's challenges was diagnosed to suffer from prostate cancer. Manong Pio is already in stage four when it was discovered in 2013.
"Nagrigat ah ngem awan met ti maaramidan mi. Inturturod ko ti napan nagdawat ti tulong kadagitti gagayem mi ken pamilya mi uray mababainak. (It is really hard but we cannot do anything about it. I had to have the guts to ask help from our friends and relatives even if I am reluctant of doing so)", Manang Leonila said.
In December 2013, Manong Pio had to stay in Baguio General Hospital. "Imabot ti 165 thousand ti babaydan mi. Ngem gappo ta impakitak dyay Pantawid ID mi, nagbalin lang nga 65 thousand (Our hospital bill reached 165 thousand. But when I presented our Pantawid ID, we only had to pay 65 thousand)", she recalled.
Aside from the cash grants, Pantawid Pamilyang Pilipino Program beneficiaries are automatically included in the Philhealth program of the Government where they can avail of medical and health benefits.
"Idi man March, na-ospital manen. 65 thousand pesos ti babaydan mi, ngem nagbalin nga 30 thousand laengen. Tatta naka-confine manen. Diak amo no mano man ti babaydanen. (Last March, he has again rushed to the hospital. We had to pay 65 thousand pesos but it was cut down to 30 thousand. Right now, he is still in the hospital, and I don't know how much willit cost it again.)" Manang Leonila shared. But this seems not to trouble her because she is confident of the assistance that they would get.
"Dakkel nga tulong iti Pantawid ken iti SLP. Uray adadyay ospital ni lakay ko, inkarigatak ti umay iti training ta kayat ko nga umado ti amok nga i-knit tapno manayunan ti mailako. Ket gapo met ti dagitoy nga programa, maipaagas ko met ni lakay ko, ket makadwa mi pay isuna. (Even if my husband is in the hospital, I have to leave him for a while to attend the training because I want to learn new products to knit so that there will be more products to sell. Through these programs, I can provide for his medication so that he can still be with us.)", shared Manang Leonila.
The Sustainable Livelihood Program continuously provides capacity building and skills enhancement activities to its program participants with the help of partner agencies and organizations. As of April 2014, there are 731 participants in Baguio City who are trained under the program. #DSWD-CAR, SOCIAL MARKETING UNIT, NFGV
Author's Note: Manong Pio Iddoba passed away on 26 May 2014. The Department of Social Welfare and Development would like to express its deepest condolence to the family and loved ones of Manong Pio.