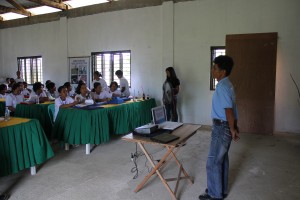 Manong Miguel Ayochok relied on farming as a source of income in Balbalan, Kalinga. Like any other locals, he rents a small piece of land to till and waits for the harvest season to keep enough food for his family until planting starts again.  But this is not enough especially with a family of two girls and one boy.
To provide more income to his family, he also works as one of the communities' errand men who carry supplies to mining sites twice a month.  They are called "howlers". It takes a lot of physical strength and endurance for this type of job especially they carry heavy loads of goods and materials that are needed by the miners.
He and other howlers hike for three hours to reach the mining sites. They also risk their lives for this job since they have to carry dynamites that will be used in the mines.  They need to wake up as early as four in the morning so that they don't have to suffer from the scorching heat of the sun. After the delivery, they all return to their houses at nightfall.
Manong Miguel is a solo parent since his wife, Aling Ruth, is working abroad as a domestic helper. It takes a lot of courage and dedication to perform the roles of a father and mother at his household especially with his work as a farmer and howler. But he is a proud solo father who has balanced his time well especially in providing for his children's needs and care. Manong Miguel credits this accomplishment to his status as Pantawid Pamilya beneficiary.
"Mahirap maging solo parent lalo na ako ang naglalaba ng mga damit at nagluluto pero nasanay na din ako", he said.
"At dahil madami din akong natutunan sa Family Development Sessions ng 4Ps, hindi na ako masyadong nahihirapan ngayon", he added.
According to him because of Pantawid Program's Family Development Sessions, he was able to teach his children even at their early age how to take care of themselves.
"Maagang natuto ang mga anak ko na mag-ayos ng mga sarili nila dahil tinuro ko din sa kanila ang mga natutunan ko sa FDS", he said.
He also taught them how to do household chores, and establish and maintain good relationship with each other. The parenting lessons he learned from FDS became his valuable tools in raising his children alone.
The Family Development Session is a monthly meeting of Pantawid Pamilya beneficiaries where they are taught on different lessons such as parenting, financial management, voter's education and others. It is also one of the conditionalities of the Program.
As a solo parent who has different jobs, he also emphasized to his kids the value of education and the importance of Pantawid grants that they received for their studies.
"Inaadvise ko din sa mga bata na mag-aral ng mabuti at hindi dapat umabsent sa school lalo na ngayon miyembro na kami ng Pantawid", he said.
"Maganda ang Pantawid Program dahil malaki ang tulong sa amin bilang indigent lalo na sa mga solo parent na tulad ko. Nabibili ko na ang mga kailangan ng mga anak ko lalo na ang mga gamit nila sa school", he said.
He also added that because of Pantawid Pamilya, now he does not have to worry where to borrow money when his children get sick.
"Ngayon dahil sa Pantawid may pinaghuhugutan na ako ng pambili ng gamot kapag nagkakasakit ang mga bata", he said.
The regular check-ups of his children in health facilities have also helped in ensuring that they have a healthy lifestyle and his kids have the proper diet.
Manong Miguel is also a Parent Leader in his community.  He has been a source of inspiration to other members of the Program especially on how he manages to take care of his children alone while maintaining his dedication and unwavering commitment in serving their community.
"Kapag may Family Development Sessions at yung iba wala ,ini-encourage ko sila na umattend. Pinupuntahan ko sila sa mga bahay nila", he said.
He also makes sure that if there are issues around the group of beneficiaries he is assigned to lead, he addresses and solves them immediately to avoid conflict and maintain a harmonious relationship among beneficiaries.
Despite the struggles and sometimes difficult tasks he needs to do as a solo parent and leader of his community, he remained focused in ensuring that their children will grow as responsible and well-mannered individuals and the people in his community are properly served.
As a Pantawid Pamilya beneficiary and Parent Leader, he has proven that not only the Program's cash grants provided them hope for a better economic condition but its monthly Family Development Sessions have encouraged and given him and his fellow beneficiaries lessons that they will keep in their lifetime and that they will share to their children. # DSWD-CAR, SOCIAL MARKETING UNIT, Jomel Anthony V. Gutierrez