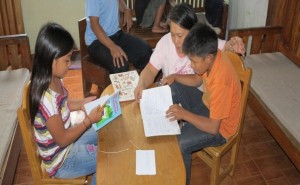 Aling Nora Pun-adwan of Lagawe, Ifugao is one of the most hardworking Parent Leaders in her municipality. The mother of one girl and two boys strives so hard to balance her family life and community works. Beside Aling Nora is her husband Manong Jose, who is very supportive to his wife's endeavors.
The two got married in 2001 and despite their poverty; they were able to provide their children a shelter with the help of their parish priest, Rev. Father Francis Balacuit. They are currently living in a lot provided by the parish that was initiated by their very supportive priest. During the construction of their house, it was also the parish priest who looked for a way on where to get raw materials for their new house.
While starting their family, they Aling Nora and her husband decided to raise chickens, ducks, and a pig as their primary source of income. It was their neighbor, Manong Dennis Dacawe, who helped them have their own livelihood. Aling Nora is grateful that there are a lot of people who help especially when they really need it.
When their second baby was born, the couple had to go through a difficult situation. They had to use all their savings and lost their livelihood due to the cesarean operation of Aling Nora. However, with their strong faith in God and through the help of other people, they moved on with a stronger spirit.
In 2011, another blessing arrived in their doorstep. Her household was selected as Pantawid Pamilyang Pilipino Program beneficiary. Aling Nora counts their household beneficiary status as one of the biggest blessings they received.
"Laki pong tulong sa amin ang programa hindi lang sa pang financial kundi pati rin sa ikabubuti ng aking pamilya", she said.
Because of Pantawid Program, the couple also learned how to keep some extra money especially for their children's education needs.
"Nag-open din ako ng savings nila para dun ko po hinuhulog ang kinikita ko na pera para kahit papano may magagamit sila lalo na sa kanilang pag-aaral", Aling Nora said.
Not only the financial benefits her family has received from the Pantawid Program that Aling Nora recounted. She also happily shared that today, she makes sure that she and her husband treat their children like a date.
"Dahil po sa Pantawid Pamilya natutunan kong ilabas paminsan-minsan ang aking pamilya,yun yung isang paraan ko para mapatibay ang aming relasyon sa isa't isa lalong lalo na sa mga bata. Kinakausap po namin sila isa-isa na para kaming nag dedate", she said.
But Aling Nora does not only rely on the grants they receive from Pantawid Pamilya but she also accepts laundry and sell some products in the market to generate more income for her family. Despite being tired everyday due to the various activities she has to do for her family, she is happy with how her kids respond to her hard work.
" Yung yakap at tuwa ng aking mga anak ang nagbibigay lunas sa aking pagod", she said.
Her husband, Manong Jose, also emphasized the value of strengthening family relationship that the couple learned in attending the Family Development Sessions.
"Maganda kasi na andun ka din para alalayan ang iyong mga anak sa paggawa ng kanilang assignments and pagbasa para madevelop din ang closeness nyo", he said.
Aling Nora has also inspired her community. As a Pantawid Pamilya beneficiary, she was elected as a Parent Leader. Her generous heart, kindred spirit and good leadership has encouraged more fellow beneficiaries to actively participate in community activities and projects. And she always makes sure that her members cooperate and are well-updated on the Program's information and activities. Her outstanding dedication to her members has made her elected as the head of Parent Leaders in 20 barangays in Lagawe, Ifugao. For Aling Nora, this an overwhelming honor that motivates her to do more especially for the benefit of her community and her family. As the head of parent leaders in Lagawe, she constantly attends local government unit meetings especially during the bottom-up budgeting activity.  She also makes project proposals and other reports as the representative of parent leaders.
Aling Nora represents every woman in the country who has proved that no matter how hard the role she chose to play in the world, she will always rise as an empowered individual whose family and community highly respect her for not just what she is but also what she had accomplished.# DSWD-CAR, SOCIAL MARKETING UNIT, Jomel Anthony V. Gutierr