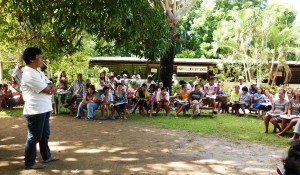 Cordillera Administrative Region- Taking part in the celebration of Women's Month this March 2014, the Department of the Social Welfare and Development (DSWD) with its partner agencies highlight the vital role of women for progress.
In relation to the theme, "Juana, ang Tatag mo ay Tatag natin sa Pagbangon at Pagsulong", the DSWD continuously supports the advocacy towards empowering women through its various programs and services.
"It has been our commitment in the DSWD to serve the marginalized sector, including women. And we always strive to work harder to provide them better opportunities to improve themselves because we believe that they play a great role towards development" Regional Director Leonardo Reynoso said.
Among the programs of the Department which highlights the importance of women is the Pantawid Pamilyng Pilipino Program (4Ps) this is because among the conditionalities of the said program is the improvement of over-all wellness and health of the family, including maternal health for Pantawid beneficiaries. Program beneficiaries who are pregnant are obliged to visit local health center to avail pre and post natal care starting for the first trimester of pregnancy until they give birth to the child. Family Development Sessions (FDS) also include lessons on self-enhancement, relationship development, values formation, and many others which aim to equip women and their families towards building stronger families.
Aside from these, the program also focuses on the awareness of women about the law on karahasan sa tahanan which is included in Republic Act 9262 or the Anti- Violence Against Women and their Children Law of 2000. Karahasan sa tahanan is the local translation of the provisions of the Convention on the Elimination of All Forms of Discrimination against Women (CEDAW), particularly in defining gender discrimination, state obligations, substantive equality, and temporary special measures. Other social welfare and development laws focusing on women are also being supported and advocated by the program and the DSWD.
Pantawid Pamilya data shows that 85% of the Pantawid beneficiaries are women. Focal Person on Gender Maria Elaine Labasan said that these beneficiaries actively participate on the program by attending the FDS and other skills enhancement trainings. Moreover, out of 2,121 parent leaders of the said program, there are around 1,878 women who serve as parent leaders in their communities.
On the other hand, another program of DSWD is the Kapit-Bisig Laban sa Kahirapan, Comprehensive and Integrated Delivery of Social Service (KALAHI-CIDSS) which seeks to apply participatory, community-led and community driven approaches proven to be effective in community development work. KALAHI-CIDSS program does not only push for community development but it also advocates gender equality by encouraging the participation of both men and women in the decision making process of the Project.  Since 2011, there are already 4,845 female community volunteers who have actively taken part in the implementation of the said Project.
Another DSWD program which assists in the empowerment of women in the Cordilleras is the Sustainable Livelihood Program which since 2011 has already catered to 5,749 women beneficiaries through its employment facilitation and micro-enterprise tracks. The DSWD also maintains the Regional Haven for women and girls who are victims of violence, abuse, and exploitation. Aside from these, DSWD programs and services catering, but not limited, to women and girls include provision of assistance to individuals and families in crisis, Cash for Work Project, Shelter Assistance Program, Social Pension Program, Supplementary Feeding Program, Adoption and Foster Care. # DSWD-CAR Social Marketing Unit, Ethel Galeon and Adrianne Bayangan (SMU Interns)