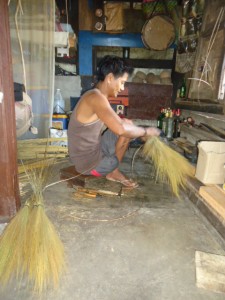 While people are busy tending to their daily routines, inside the kitchen of the Labasni's home in Brgy.Mabilong, Lubuagan is Mr. Realce Labasni who is skillfully making soft-brooms and other products such as piggy banks made out of coconut shell, rattan baskets, rattan-designed samling (bottle) and kallugung, a traditional headgear.
However, this was not the scenario in the Labasni's household 23 years ago. Instead of making a living for the family, Manong Realce admitted that he became fond of drinking alcohol especially after losing his child from an accident. Destiny once again tested Manong Realce when after losing his child; he lost his right leg due to a severe wound infection.
The infection did not only take away Manong Realce's leg but it also took away his self-esteem.  But instead of lulling in despair, Manong Realce used the mishap as a challenge to improve their lives. What happened became a blessing in disguise for Manong Realce and his family.
In 1991, a year after his operation, he learned to make handicrafts using rattan which did not only provide financial support to his family but has also helped him trust himself again. His self discovered creativity and resourcefulness made him regain his self worth. And until today he makes use of this skill as one of the major sources of income for his family.
He now only stayed at home taking care of the children while his wife, Juliet, searches for work in order to provide basic needs for the family. But despite the hard work and perseverance of the couple, they still experience hard times in providing for their family's needs.
After years of trying to make ends meet through the meager income he earned from making handicrafts, Manong Realce and his family was included in the Pantawid Pamilyang Pilipino Program.
Aside from the grants that they received, the Family Development Sessions (FDS) of the Program became a big help to Manong Realce.  From his monthly attendance to FDS, he learned to become more sociable which help him boost the sales of his products through his incredible sales talk.  He has developed self-confidence which he once lost.He learned to control himself in drinking alcohol and became a more responsible father.  In 2012, because of his creativity and hard work, he was featured in National Geographic Channel as a skilled maker of traditional handicrafts. Their neighbors have witnessed his personal and social transformation.
Aside from his personal triumphs as a father who has proved to himself that anyone can change as long as there's a strong will to do it, the household of Manong Realce, composed of 8 children, 5 girls and 3 boys, is an active member of the community. Their family together with other Pantawid grantees has been consistent in leading the yearly Christmas celebration of their community and other community development activities in their barangay. Moreover, Manong Realce's wife, Aling Juliet, has been a Barangay Health Worker for more than a year now. She is also an active member of the local church.
The Labasni family has been compliant to the conditions of the Pantawid Pamilyang Pilipino Program. And they believe that the Program has made an impact to their family.
The Labasni family belongs to survival level during the 1st evaluation of the Social Welfare Indicator at their area. The evaluation result has qualified Aling Juliet to avail of the seed capital assistance through the Sustainable Livelihood Program. After series of training, she took the challenge and put up her own business through the help of the seed capital.
Aling Julie, like her husband, is now among the popular weavers from Brgy. Mabilong. She earns from weaving tapis, G-string, takyed (belt), and blankets. Aside from the handicraft business, Aling Juliet continues to work as a farm laborer. She believes that because of her family's hardwork, they were able to improve the family's level of well-being into subsistence level.
"Dakkel ti nagbaliwan ken nag rang-ayan ti pamilya mi manipud nag-awatan mi kas benepisyaryo ti Pantawid Program. Tadta ket makaeskwela dagiti annak mi ken makagatang kami ti sapatus, payung ken daduma nga usaren da nga ageskwela. Idi ket kaputi ti paglinung da nu agtudu ta awan ti payung. Tadta paiket naramanan dagiti annak mi ti gatas ken bangus (There was a big change since we became beneficiaries of the Pantawid Program. Our children can now go to school, we can buy them shoes, umbrella and other school supplies. Before, they use rain coat because they do not have their umbrella. Our children are also able to taste milk and eat milkfish.) ", Manong Realce shared.
Today, one of their daughters, Rizza, just finished her BS in Information Technology degree. Despite the fact they are still struggling to send four children to school and to provide the needs of their big family, Manong Realce and Aling Juliet remain strong-willed and optimistic. They are determined to send all their children to school such that with the assistance that they are getting from the Pantawid Program, the children are also determined to study for a brighter future. They further believe that with prayers and hard work, they will all rise from the intergenerational cycle of poverty.
"I wish the Program will continue for at least 10 years more because this has greatly improved the health and educational status of our children and the well-being not only of our family but also our fellow Pantawid grantees", Manong Realce added.
Despite the hardships that the family has encountered, the Labasni Family has remained hopeful and strong. Like the cloth that they weave, each string of difficulty contributes to the strength and beauty of their future. # DSWD-CAR, SOCIAL MARKETING UNIT, Jomel Anthony V. Gutierrez