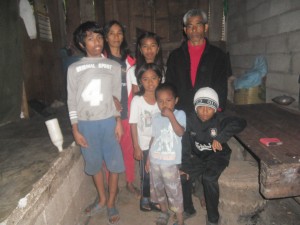 Aling Rosita Bitao, a Pantawid Program beneficiary, of Ambato-Legleg takes care of five children and a partially blind husband. It is a very challenging role but she never tried giving up with her current situation instead she is not only a full time mother and wife, she is also serving her community. Aling Rosita was elected as a senior Barangay Kagawad.
Aling Rosita's husband Mr. Sabas Bitao, started working as a KAFGU in May 1989. The meager allowance he received could not sustain the needs of his family.  During day off, he accepted paid labor in the rice fields owned by their neighbors and relatives. Aling Rosita stays at home taking care of their children.
In 2004, her Husband accidentally slipped in the plantation with his left eye directly hitting the stick used as stand for eggplant. He had to stop working after the accident left him with blurred eye vision. It was a challenging time for their family- Aling Rosa was pregnant, hospital bill was high and they do not have a stable income.
"Uray agbagbagyo ket mapanak latta agbirok ti kwarta nga usaren ni lakay ko. Maasianak pay kadagijay babasit nga ubbing ko ta ibatbatik isuda ti kaaruba mi ken kasta met iti sikogko. (I try to earn money even during typhoons. I leave my children with our neighbors and I feel sad about it. I feel sorry for my children, especially for the child in my womb.) " she cried.
She borrowed money from relatives and neighbors. Due to desperation, she sold their livestock and the lumber they saved for their dream house to pay the hospital bills and medicines. The Municipal and Social Welfare and Development Office (MSWDO) and Provincial Social Welfare and Development Office (PSWDO) also provided her assistance to get them through the situation. Her husband stopped working and she became the family's sole provider.
Aling Rosita started to improve her family's condition but another trial tested her strength especially as a mother. Right after her husband was hospitalized, their first child, Jessemar, was diagnosed with typhoid fever and malaria. It was found out that when she was pregnant, she got Urinary Tract Infection (UTI), which affected the child's brain and vision. Jessemar is not able to go to school now because of his special condition.
Despite the struggles her family has experienced, Aling Rosita remained strong. She worked harder to provide the family's needs. Then a surprise blessing arrived for the family. They qualified to become one of PantawidPamilyang Pilipino Program beneficiary households in the area.
"Blessing kanyami nga naala kami ngaPantawid (beneficiary) ta uray nu bassit lang dyta nga gated ti kwarta ket dakelen ti tulong na kanyami(Being a part of Pantawid is a blessing for us because even if it is only a small amount of money, it is already a big help to us)", she said.
Not only their beneficiary status has changed their condition, her continuous attendance to the Family Development Sessions has helped her improve her self-esteem and serve her own community.
People in her community look up to her because she showed that obstacles can become sources of inspiration to become a stronger individual. They also commend her for her active leadership as a dedicated facilitator of community activities (such as the clean-up drive) and meetings. Her husband has also been active in the community and becomes her partner in encouraging their fellow beneficiaries during FDS to actively participate in the community.
"Ine-enganyo namin sila na huwag umabsent sa FDS kasi marami silang matutunan sa mga sessions na makakatulong ng malaki sa pamilya nila", she said.
Her husband shared that Family Development Sessions did not only improve their family bonding but also their Spiritual closeness to God.
"Dakami met lang ti mang gun-od nu enya man ti maad-adal mi iti FDS(It is us who will benefit on whatever we learn from the FDS)", he said.
Aling Rosita admitted that the program's grants lessen their burden especially with the increasing needs of their children who are currently studying.
"Ti principyo mi ket uray makurkurangan kami wenu kurang ti maawawat mi ket haan kami agriri .Pagyamanan mi pay nga adda ti ited ti Gobyerno nga tulong kanyami(It is our principle that we will not complain but we will be grateful for the help that the Government gives to us)", he said.
Because of the high respect she earned from the community as an active Pantawid Pamilya beneficiary, her neighbors motivated Aling Rosita to run as Barangay Kagawad. Last barangay elections, she was successfully elected as Senior Kagawad.
"Haan nak pay mamati nga siyak ti number one nga kagawad idi ibagbagada kanyak isunga dakkel nga yaman ko unay iti kakailyak ti tulong da(At first, I did not believe them saying that I was elected as the number one Kagawad, but I am very thankful to my community mates for all their help.)", she said.
As a Barangay Official, she makes sure that in her own ways, she helps address the issues or problems in her community. She also does not forget to interact with her constituents every day. Sometimes she prepares and serves foods to them and fellow Pantawid Pamilya beneficiaries.
"Ta isu met ti dakkel met nga maitulong mi nga babae iti kakasta nga banag(As women, we can be of big help in the preparation and serving of foods.)", she said.
"Tatta nga maysa ak meten nga kagawad, dakkel met ti yaman ko ta haan dakami lang nga denggen ng abababe nu di ket ipateg dakami met (Now that I am a barangay kagawad, I am very thankful that the community does not only listen to us but they give importance to us as women)", she said.
Aling Rosita also believes that women like her have a greater responsibility in the community. "I believe that women can make a big difference in the community", she added.
As a Pantawid Program beneficiary, she embodies what the Program has been aiming since it was implemented: empowered and an agent of change. # DSWD-CAR, SOCIAL MARKETING UNIT, Jomel Anthony V. Gutierrez