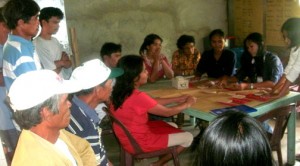 "Don't judge a book by its cover." This may sound cliché. But its value and meaning linger and relate through times.
Grey hair, sun burnt skin, calloused feet and hands, and a wrinkled face- an old man as I see him. And this bothered me.
Mr. Demitrio Baga or "Tsong Doming", as he is commonly called by his relatives and residents of Barangay Udangan of La Paz, Abra is the Barangay Treasurer. Considering his physical characteristics, one would question his capability to perform his tasks as the treasurer of the barangay and at the same time the Barangay Sub-Project Management Committee (BSPMC) Treasurer of the Kalahi-CIDSS or Community-Driven Development Project (CDDP) of the Department of Social Welfare and Development (DSWD).
Of the 12 barangay treasurers of the municipality of La Paz, 62-year old Tsong Doming looks the eldest among the group. Others were relatively young. And because of his old age, I perceived that they would be more active than Tsong Doming. 
During the first stage of Community Empowerment Activity Cycle (CEAC) of the CDDP, I was doubtful of what Tsong Doming could do relative to the functions and tasks as the Barangay Treasurer. I had my eyes on him. But as I observed, he was very punctual in every meeting although Tsong Doming was not vocal during those times. However, when we had the Community Procurement Training, I was surprised when Tsong Doming began to mingle with us. We were then having our lunch when he approached us while chatting with other volunteers and said, "Ma'am, makabulan la koma ti trainingen. Naganas ti kastoy. Da pay libre a pangngaldaw ken meryenda" (Ma'am, I hope the training will be a month long so we'll have provisions of lunch and snack that we enjoy like this.). We knew he was kidding and so we laughed out loud with the other volunteers not expecting him to behave that way.
Aside from his shared delights on the free provision of food on the training, there was something in Tsong Doming that struck me. Many of the community volunteers are often bored and sleepy during trainings but not with Tsong Doming. His full attention to details meant as a good sign of interest and determination to know and learn the process of CEAC.
Eventually, the time came when the community volunteers, including Tsong Doming had to deliver and perform their assigned tasks with the knowledge and skills enhanced through trainings and technical assistance they have acquired through the Project.
Even though Tsong Doming had to undergo frequent coaching sessions with the Municipal Finance Analyst (MFA) at the barangay level, Tsong Doming was proud that he learned so much in preparing DVs, PCVs, and other financial documents.
"Dakkel iti panagyaman ko iti Kalahi ta manmano iti kastoy nga oportunidad nga makatrabaho ak nga kasla agpayso nga treasurer. (I'm grateful to Kalahi (CDDP) for this rare opportunity of performing like a "real" treasurer.)"Tsong Doming said as he expressed his gratitude as one of the officers of the Project's committee.
While Tsong Doming was getting more familiar with the tasks he faces each day, I unknowingly came to know this man better. His courage, enthusiasm and diligence towards his work proved me wrong on what I thought of him before.  This calloused feet and wrinkled faced man as I described him before had so much more to give. He voluntarily gives his effort and time to perform well on his responsibilities. And what won my heart the most is his compassion to people and to his work as well as his dedication to serve the community on his best way he can.
Indeed, this old man is still vigorous and active. He showed me a man far from what I pictured him. Then, I asked myself, why only this time that I realized that his appearance is his great testament of him being an industrious and extraordinary man I came to know.
With my respect and gratefulness to this man, I say that this is only one of the many testimonies on the high spirited and empowered Tsong Doming.
Indeed, Tsong Doming helped me to become more understanding and open-minded to people and situations. He opened my mind and heart that no matter what or who you are, man or woman, rich or poor, young or old, if your heart desires to serve the people and the community, your actions will eventually manifest this. In my case with Tsong Doming, he was not the only one who has learned from the Project, but he has taught me a lesson that is definitely worth keeping.  # DSWD-CAR, Social Marketing Unit with reports from IVY VENUS S. AVENDANO & MAYROSE F. URBANO