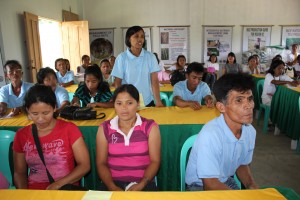 Sta. Ana, Cagayan – The Parent Leaders of the Pantawid Pamilyang Pilipino Program in Balbalan, Kalinga conducted their first Study Tour to exchange best practices with other Program beneficiaries in Sta. Ana, Cagayan.
Twelve beneficiaries together with the Pantawid Program and Municipal Social Welfare and Development staff of Balbalan traveled to the second-class municipality and home of the Cagayan Special Economic Zone last 5-7 June. They had the chance to meet around forty Parent Leaders from the municipality.
During the meeting, both parties exchanged ideas and information on how to promote and achieve one hundred percent compliance on the conditionalities set by the Pantawid Program for them to continuously receive cash grants.
The beneficiaries of Sta. Ana, Cagayan are known for their consistent compliance of the Pantawid Program's conditionalities. This is one of the reasons why the beneficiaries of Balbalan conducted their Study Tour there.
The two groups also shared various good practices that have been very helpful in the proper implementation of the Conditional Cash Transfer (CCT) in their respective areas.
In Sta. Ana, Cagayan, one of the best practices of CCT beneficiaries is the requirement to groom themselves well during meetings and trainings. They are also mandated to wear their nametags all the time for proper identification.
The Pantawid Program does not only provide cash grants to deserving households but it also helps beneficiaries on personality development and skills enhancement.
Meanwhile, one of the best practices of the beneficiaries in Balbalan, Kalinga is their strong "sense of community". They always look after each other and support their co-beneficiaries and even non-beneficiaries on community activities, disasters and in other times of need.
The Balbalan, Kalinga Municipal Link Darwin Serion stressed that during the meetings of beneficiaries, both parties should learn from each other in order to further improve the implementation of the Program and so that they all can take some lessons that can be applied to their respective communities.
The Pantawid Pamilyang Pilipino Program is a rights-based Program of the Department of Social Welfare and Development that provides cash grants to beneficiaries in exchange with their compliance of the different conditionalities of the Program. # JOMEL ANTHONY V. GUTIERREZ, DSWD-CAR Social Marketing Unit