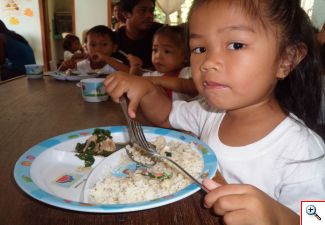 The Supplementary Feeding Program (SFP) of the Department of Social Welfare and Development (DSWD) continues to serve some 43,740 Day Care Children in 1,999 Day Care centers across the region.
The SFP, which is among the big ticket projects of the social welfare and development agency, is now on its second cycle of implementation after successful results from its launch May last year.
Data from the DSWD in the Cordillera revealed that to date, the program has already served 350 Day Care Centers in Abra, 190 in Apayao, 426 in Benguet, 104 in Baguio, 362 in Ifugao, 287 in Kalinga, and 280 in Mountain Province.
The DSWD regional office reported that the feeding program is still ongoing in many part of the region.
The SFP also continues to capacitate its implementers and partners evident in the lineup of activities for the second quarter of the year.
As the SFP desires to help the children with health and nutrition-related problems, Day Care Workers will be trained on World Health Organization-Child Growth Standard (WHO-CGS) this April.
In addition, an assessment of the earlier implementation cum capability building for local government unit partners will be held this May.
Meanwhile, the DSWD will continue to conduct monitoring and spot check visits in the provinces of Abra, Ifugao, Kalinga, and Apayao to ensure the success of the program. n Jerwin Rey A. Balan-eg (UC Intern)