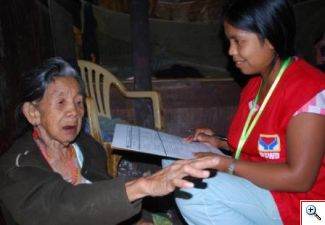 Mayrose F. Urbano | SMU/National Household Targeting Unit
Twenty-five municipal local government units and two national government agencies in the region are now using the database of poor households under the National Household Targeting System for Poverty Reduction (NHTSPR) of the Department of Social Welfare and Development (DSWD).
These groups have all signed a Memorandum of Agreement (MOA) with the social welfare agency on data sharing of the NHTSPR.
DSWD regional director Leonardo Reynoso said the agency is hoping to share the database of poor households to all LGUs and government agencies in the region so that a unified and an objective criteria for the selection of poor households can be achieved.
NHTSPR is an information management system that identifies who and where the poor are. Available information in the database of poor households include poverty status, health, education and housing condition, also solo parents, person with disability (PWDs), indigenous peoples and among others.
Last year, the Regional Development Council (RDC) signed Resolution No. 72 series of 2012, advocating to all government and non-government entities implementing poverty reduction programs and projects the use of the NHTSPR as the common reference for the identification and determination of beneficiaries at all levels in the region.
For LGUs, the towns of Malibcong and Bucay in Abra now use the NHTSPR data. The Apayao towns of Flora, Kabugao, Luna, Pudtol, and Conner are the data users. The municipalities of Atok, Kapangan, Kibungan, La Trinidad, Mankayan and Tuba are the data users in the province of Benguet while Barlig, Sadanga, Sagada and Natonin are the users in Mountain Province.
In Ifugao, the towns of Aguinaldo, Alfonso Lista, Banaue, Hungduan, Kiangan, Lagawe and Mayoyao have all signed agreement with the DSWD while the town of Balbalan is so far the lone user for Kalinga.
The agreements for data sharing with Santa Marcela, Apayao and Tabuk City, Kalinga have already been forwarded to National Household Targeting Office (NHTO) for finalization.
Meanwhile, together with the Department of Health (DOH) and the Philippine Health Insurance Corporation (PhilHealth) who have national agreement with the DSWD, the National Commission on Indigenous Peoples (NCIP) and the National Economic Development Authority (NEDA) are so far the only two national government agencies that use the NHTSPR list in the region.
DSWD – CAR continues to address inclusion and exclusion errors through special validations. The agency has also kicked off preparatory activities such as consultation dialogues, pooling of field staff, and securing and completion of lists of schools and health facilities for the recertification of poor households next year. # DSWD-CAR Social Marketing Unit