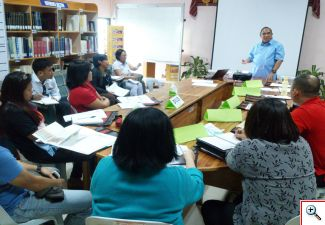 Romer M. Gonzales | UC Intern
The Department of Social Welfare and Development (DSWD) in the Cordillera on Friday called for a meeting with other national government agencies in the region to explore partnership and convergence opportunities under the Sustainable Livelihood Program (SLP) of the agency.
Among the attendees are the Department of Agriculture, Department of Science and Technology, Department of Labor and Employment, Technical Education and Skills Development Authority (TESDA), Department of Trade and Industry, Department of Public Works and Highways, Department of Environment and Natural Resources, and the Department of Interior and Local Government.
DSWD regional director Leonardo Reynoso said his agency is exploring joint ventures to help poor families particularly those being assisted under the Pantawid Pamilyang Pilipino Program or the Conditional Cash Transfer (CCT) that has now reached over 57,642 households in the region.
Some 12,480 households are set to graduate from the CCT on December 2013. The DSWD is leading the effort to provide sustainable livelihood opportunities for these families.
The director also underscored that the efforts from the national government agencies should converge to address unemployment in the region.
Director Reynoso also highlighted the partnership between the DSWD and the TESDA in providing cash-for-training opportunities among poor households.
The cash-for-training program is expected to develop skills among poor families and increase their chances for employment which is one of the tracks of the DSWD-led SLP.
Another track of the SLP is on micro-enterprise development where poor households are provided with a non-collateral, non-interest loan.
Meanwhile, the national government agencies in attendance agreed to explore possibilities of assisting the CCT beneficiaries in the region. Among the agreements is the conduct of a community meeting where all agencies will be present to orient the poor families of programs they can avail from them.