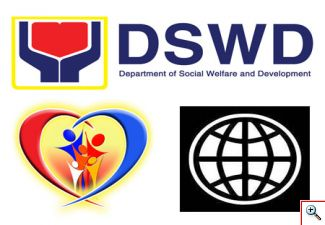 Jomel Anthony V. Gutierrez with reports from DSWD Central Office
The World Bank Group, a multilateral international development institution, has released its evaluation of the Pantawid Pamilyang Pilipino Program or Conditional Cash Transfer (CCT) of the Department of Social Welfare and Development (DSWD).
In the "Philippines Conditional Cash Transfer Program Impact Evaluation 2012", the World Bank concluded that the CCT is "on the right direction to achieve the human investment goals of the Program."
The impact report revealed that 76 percent of the children in CCT areas go to day care centers compared to non-CCT areas that have 65 percent of children enrolled in day care centers.
There are also more elementary and high school students enrolled from CCT areas than those coming from non-CCT communities. Children from CCT program have also higher attendance rate at schools than those from non-beneficiary areas.
One of the provinces that were evaluated and included in the World Bank impact evaluation report is the Mountain Province.
In the Cordillera Administrative Region, beneficiaries of the program now totals to 57, 821 households.
Some 17, 118 children are reported to be attending day care centers every day in every municipality and province in CAR while some 111,154 students are enrolled in elementary and high Schools.
The average compliance rate on all program conditions in the Cordillera Administrative Region has been significantly high with 95.96 percent as last recorded figures for 2012 revealed.
The Conditional Cash Transfer (CCT) is a poverty alleviation measure of the government that focuses on human capital investment among poorest households in the country. #