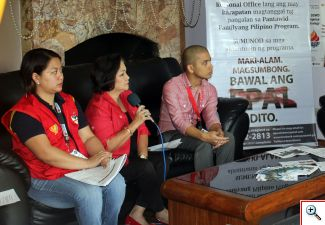 Jomel Anthony V. Gutierrez | Information Officer
The Department of Interior and Local Government (DILG) and the Department of Social Welfare and Development (DSWD) have created measures to protect government programs particularly the Pantawid Pamilyang Pilipino Program or the conditional cash transfer (CCT) from "epal" or credit-grabbing politicians this election period.
The DILG, through Memorandum Circular (MC) 2012-44 has earlier ordered its regional directors through its field officers to monitor politicians and community leaders who are using the different government programs to boost their popularity and influence.
In MC 2012-44, DILG gave a directive to its regional heads and local government units (LGUs) to refrain from using the Pantawid Program for political interests.
According to the MC 2012-44, "…the display of photos/pictures and names of government officials in posters/streamers in the announcements of CCT or 4Ps-related activities are hereby prohibited."
The memorandum also emphasized that this prohibition is part of the government's effort for good governance, transparency, and accountability especially in the execution of poverty reduction programs of the national government.
Meanwhile, the DSWD has launched a nationwide campaign called "Bawal Ang Epal Dito". The campaign will be implemented in the different regions of the country.
DSWD's official statement stressed that "this national campaign seeks to eliminate the "epal" in the implementation of the government programs, especially the Pantawid Pamilyang Pilipino Program".
It also added that "Bawal Ang Epal Dito" campaign aims to empower the beneficiaries with the knowledge that no one has the right to delist a beneficiary. Only the DSWD Regional and National Office are authorized".
The campaign is expected to prevent politicians from participating in conditional cash transfer activities and program advocacies. The campaign is also anticipated to maintain and strengthen the Program's credibility especially during the coming elections in the country.
DSWD organized the campaign after the agency received reports that various politicians and groups are using the human development program of the national government to threaten beneficiaries and take advantage of their votes in the upcoming elections. # Jomel Anthony V. Gutierrez/DSWD-CAR