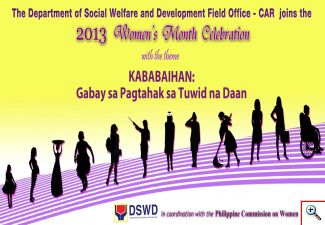 DSWD Cordillera | Social Marketing Unit
To recognize the role of women in development, the Department of Social Welfare and Development (DSWD)-CAR joins the nationwide celebration of Women's Month with the theme "Kababaihan: Gabay sa Pagtahak sa Tuwid na Daan".
The event aims to increase the participation of women, enhance gender perspective in having good governance and enhance gender perspective in upholding good governance.
The Civil Service Commission, through Memorandum Circular No. 04, announced this year's celebration also highlights the importance of strengthening the mechanisms and institutions that support women and to widen the arena for their participation.
In line with this, the DSWD will be conducting activities including a media engagement, men's forum highlighting their contributions to the plight of women, film showing, cooking, banner making and song writing contests. These activities will take place within the entire month of March.
Meanwhile, the DSWD has also been conducting orientations in the provinces of Apayao and Kalinga, Benguet and Mt. Province on Republic Act 9262 or the Anti-Violence against Women and their Children Act of 2004.
Last year, the DSWD had a Budget Partnership Agreement with Save Our Women, a non-government organization of dedicated women and men that aims to further the advocacy against Violence against Women and their Children (VAWC).
The DSWD also established the Haven for Women, a temporary shelter and protective custody to women and girls ages 18-59 years old. The Haven for Women was built on August 1999 and is located at North Drive, Baguio City beside the DSWD Regional Office.
As of January 2013, it serves as temporary home of 18 women who are victims of abuse and exploitation whose needs cannot be met by their families and relatives for a certain period of time located at the city. The shelter provides social, medical, psychological, legal, spiritual, educational, health, livelihood, recreational or cultural, capability building trainings and after care services.
The DSWD has also joined the parade for the International Women's Day celebration last March 8 in the city. ### Mabel Bangsi-el/DSWD-CAR Social Marketing Unit