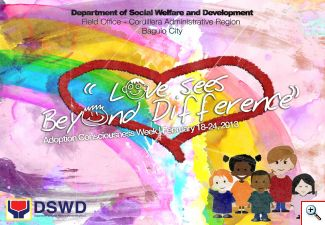 The Department of Social Welfare and Development continues to inspire the declaration of love even after Valentine's Day as it leads the observance of the 15th Adoption Consciousness Week on 18 to 24 February 2013.
The week-long event, which will feature advocacy activities across Cordillera, carries the theme "Love sees beyond differences".
With its partner agencies and organizations, the DSWD aims to communicate to the public adoption as a form of love especially to children who are deprived of familial care and love.
DSWD's Alternative Parental Care Section Head Mary Ann Buclao said adoption is very important because it gives new hope and a better future for abandoned or neglected children.
Buclao said it is essential for these children to have a family because it contributes to their well-being and holistic development.
Clinical studies showed that children who have not experienced this kind of love have higher tendency of mental and psychological difficulties.
The DSWD continues to offer assistance in domestic adoption and foster care, aside from the delivery of protection, rehabilitation, and temporary residential care to abandoned and neglected children 0-6 years old through the Reception and Study Center for Children (RSCC) in La Trinidad, Benguet.
The Department also observes the deinstitutionalization policy that aims to let children experience home atmosphere while their adoption is in process.
In 2012, the Department facilitated the adoption of around 67 children while 14 children have been placed under foster care. The DSWD, however, still encourages adoption and foster care among families in the region.
The DSWD Cordillera will set up an adoption help desk at SM City Baguio on 21-22 February 2013 as part of the lineup of activities. It will also advocate adoption and foster care among local radio and TV stations.
In November 2012, the Department conducted an adoption forum attended by 47 prospective adoptive parents. A similar forum is set on the first week of March 2013.
Interested individuals may call (074) 444-32-09 or visit DSWD-CAR at 40 North Drive, Baguio City (beside NBI-CAR). # Nerizza Faye G. Villanueva/DSWD-CAR Social Marketing Unit