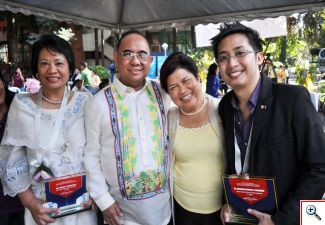 QUEZON CITY – Officials of the Department of Social Welfare and Development (DSWD) in the Cordillera Administrative Region bagged top awards in the recently concluded 62nd anniversary celebration of the agency here.
DSWD Regional Director Leonardo C. Reynoso bagged the Best Manager Award nationwide while Ms. Perlita V. Panganiban, Chief of the Institutional Development Division of DSWD-CAR was conferred with the Best Division Chief award – Technical Category.
Completing the list of awardees for the Cordillera is Mr. Rogerson Dennis R. Fernandez, Regional Information Officer of DSWD-CAR, who was hailed Best Support Staff – Professional Category.
Director Reynoso, who gave his response on behalf of the national awardees, acknowledged the contribution of the entire DSWD workforce in the Cordillera for the achievement.
He also thanked Secretary Corazon Soliman and the DSWD top management for sustaining the recognition of outstanding officials and employees of the Department.
DSWD Secretary Corazon "Dinky" Soliman with Undersecretary Parisya Hashim-Taradji who chaired the search committee personally handed the plaques of recognition and cash prizes to the winners.
The awardees were recognized under the agency's Programs on Awards and Incentives for Service Excellence (PRAISE) pursuant to Civil Service Commission Memorandum Circular No.1 Series of 2001.
Under the PRAISE, DSWD offices submit nominees to the Central Office where short listing is done by a national search committee. Short listed nominees are then validated through peer-supervisor interviews and document reviews by a team from the search committee.
The awarding is conducted during the anniversary celebration of the year following the PRAISE search. # DSWD-CAR Social Marketing Unit