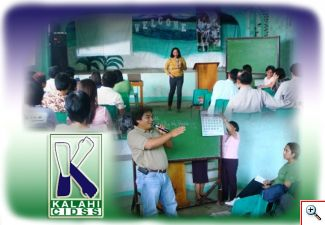 The national government will now use the community-driven development (CDD) approach as a national strategy for poverty alleviation in the Philippines for 2013.
Dubbed as the National Community Driven Development Program (NCDDP), the project will use the systems developed through Kapit-Bisig Laban sa Kahirapan- Comprehensive and Integrated Delivery of Social Services (Kalahi-CIDSS) and will also apply the lessons learned in the implementation of the various CDD programs of the other national government agencies.
From 12 regions already being covered by the Project, the NCDDP aims to expand coverage in 15 regions. Of the 15 regions, around 19,395 barangays from 900 municipalities in 68 provinces are targeted to be included in the program.
A similar program is also now in the works for the Autonomous Region of Muslim Mindanao which will add 118 municipalities to be covered.
All municipalities included in the NCDDP have registered 33% and above rate of poverty incidence which was based on the 2009 Small Area Estimate of the National Statistical Coordination Board (NSCB).
Around 44 of the 900 target municipalities will be coming from the Cordilleras. The existing Kalahi-CIDSS Project currently covers 16 municipalities within the region.
Aside from the geographical expansion, the Program also intends to enhance services for its current beneficiary areas by providing bigger allocations to poorer areas and promoting intensified convergence not only among DSWD's programs and services but also with other government agencies such as the Department of Agrarian Reform (DAR), Department of Agriculture (DA), Department of Education (Dep Ed), Department of Energy (DoE), Department of Labor and Employment (DOLE), Department of Health (DOH), Department of Interior and Local Government (DILG), National Commission of Indigenous People (NCIP), National Economic and Development Authority (NEDA), Department of Budget and Management (DBM), and the National Anti-Poverty Commission (NAPC).
Being the scale up of the CDD approach of the Kalahi-CIDSS Project, NCDDP aims to empower more poor communities all over the country by giving them access to basic services and encouraging them to participate in affairs of local government, especially in planning, budgeting, and implementation.
The Program also promotes stronger local participation and ownership of the beneficiaries, civic groups, and other external stakeholders.
The CDD approach has been used in the implementation of the Department of Social Welfare and Development's (DSWD) Kalahi-CIDSS project which has promoted localized decision making and capability building in the barangay level. n Nerizza Faye G. Villanueva/DSWD-CAR Social Marketing Unit