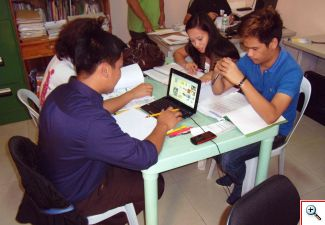 Recruits of the Government Internship Program (GIP) in the Cordillera who were under the Department of Social Welfare and Development (DSWD) have finally received their stipends for the second half of their 52-day stint in government operations last year.
The release of payment, which was delayed due to realignment of funds, started in the last week of December 2012 and continued in all the provinces of the Cordillera early this month.
Regional Director Leonardo Reynoso said the Department is pleased that the funds that have long been awaited has been distributed to the youth interns. He added that the release of payments had erased doubts that the stipends will no longer be released.
A report from the DSWD-CAR GIP secretariat revealed the Department has already disbursed some 31.4 million pesos or 98% of more than 32 million in stipends for the 3,896 government interns deployed across the region.
Since May of last year, the GIP recruits were exposed to various programs and services in order for them to develop a sense of responsibility, positive attitude, and hands-on experiences in government agencies.
The GIP, which is one of the components of the government's Kabataan 2000 initiative that started in 1993, aims to initiate the youth to public service and extend possible financial assistance for the next school year.
Government interns include out-of-school youth, students not enrolled during the 2012 summer term including fresh graduates and unemployed vocational or college graduates, 18-30 years old. They received PhP 272.00 per day for the 52 work days of the internship program. n RDRF/DSWD-CAR Social Marketing Unit