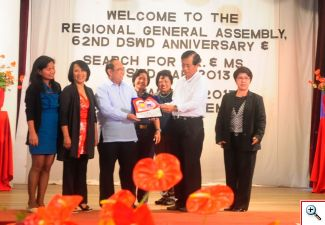 BAGUIO CITY – The Cordillera Field Office of the Department of Social Welfare and Development (DSWD) celebrated Friday the 62nd anniversary of the agency through a one day slate of activities here.
With the theme "DSWD@62: Sama-samang husay tungo sa tagumpay," the Department opened the celebration with a regional general assembly of over 500 DSWD personnel in the entire region.
Regional Director Leonardo Reynoso in his anniversary message challenged the DSWD Cordillera workforce to continue its resilience in the implementation of various programs and services. He also underscored Secretary Soliman's call to bring together competencies in order to excel and achieve the agency's vision.
One of the highlights of the celebration was the recognition ceremony for DSWD's partners in the region. Several award categories were conferred to individuals and organizations who have contributed to the success of programs and services of the Department.
Among the awards include the Pagkilala sa Natatanging Kontribusyon sa Bayan (Panata Ko sa Bayan) to include the Gawad Ulat for the media, Salamat Po Awards for individuals and organizations, the Program on Rewards, Awards, and Incentives for Service Excellence (PRAISE) Awards for outstanding and top performing personnel, and the loyalty awards for DSWD employees.
Top awardees for the Panata Ko sa Bayan were the Civil Service Commission-CAR and the Professional Regulation Commission-CAR. Meanwhile, Salamat Po individual awardees from national government agencies and non-government organizations include Brigida Cecilia Abratique (CHR), PSI Carolina Facsay-Lacuata (PROCOR), Dr. Virginia Narciso (DOH), and Dr. Milandre Rusgal (RFSCAP).
Salamat Po awardees also include the San Roque Power Corporation, the local government unit of Tabuk City, and the Knights of Columbus under District Deputy Jose Hortelano.
Recipients of the Gawad Ulat 2013 for print media include SunStar Baguio, the Baguio Midland Courier and the Baguio Chronicle while DZWT, Bombo Radyo Baguio, and ABS-CBN Baguio were recipients of the award for the broadcast media category. A special citation was also conferred to the Philippine Information Agency-CAR.
The DSWD-CAR with the child friendly movement also awarded child friendly seals to the municipalities of Kiangan, Ifugao and La Trinidad, Benguet for being regional winners in the fourth to sixth class municipality and first to third class municipality categories respectively. The City of Baguio was also conferred its child friendly seal for the highly urbanized city category. Winning municipalities and cities also received 50,000 pesos.
The agency also recognized local government units for their assistance to DSWD and its staff in the provinces. Among the provincial local government unit awardees were Abra, Apayao, Kalinga, and Mt. Province.
Capping the anniversary celebration was the first ever search for Mr. and Ms. DSWD-CAR 2013. n RDRF/DSWD-CAR Social Marketing Unit