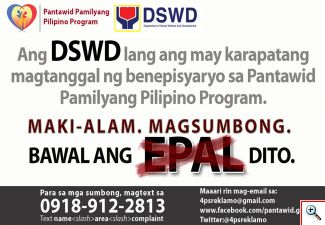 The Department of Social Welfare and Development (DSWD) Field Office Cordillera is launching its own campaign against "epals" (street lingo for credit grabber) during the midterm election period.
Dubbed "Bawal ang Epal Dito", the campaign is the DSWD's response to reports that various politicians and groups have been using the Conditional Cash Transfer Program also known as Pantawid Pamilyang Pilipino Program to threaten beneficiaries and take advantage of their votes in the forthcoming elections.
Social Welfare Regional Director Leonardo Reynoso said the Department, through the campaign, seeks to eliminate the misconceptions of beneficiaries and the public about the control of politicians over the national government program.
The "Bawal ang Epal Dito" banners the information "Walang karapatan ang kahit sino man [pulitiko] na mag-alis ng pangalan. Ang DSWD regional office at national office lamang ang may karapatang gawin ito. DSWD lamang ang may karapatang tanggalin ang benepisyaryo kung siya ay hindi susunod sa mga itinakdang kondisyon." [No one has the right to delist a beneficiary. Only the DSWD regional and national offices are authorized to do so. DSWD has the sole right to delist beneficiaries if they will not comply with program conditions.]
The director added the anti-epal campaign, which is mainly on information, education, and communication, does not favor any politician including the administration's bets as it focuses on empowering beneficiaries to have the freedom to choose their leaders without any fear of being stricken out from the list of CCT grantees.
The Social Marketing Unit of the DSWD Field Office Cordillera is set to launch the campaign by February with press briefings, radio and television advertisements, posters, stickers, and advocacy caravans. n RDRF/DSWD-CAR Social Marketing Unit