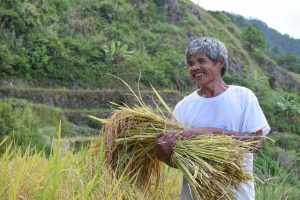 It's harvest time in Sagada, Mountain Province and it seems that this season is different from the previous years for the people of barangay Bangaan. As the newly concreted footpath sits around the farms and homes of the community, agricultural products are transported without delay.
The recent completion of the 1,447-linear meter footpath in barangay Bangaan brought sigh of relief to this community, so as they say. And, the people's journey in finally realizing this decades-old dream have drawn us to visit this land of majestic caves and refreshing waterfalls.
Upon arrival at sitio Guesang of Barangay Bangaan, a mighty waterfall silently flowing between the lush mountains from afar greeted our eyes.
Having met two community volunteers while conducting courtesy call at the municipal hall, we considered ourselves fulfilled for this supposed "surprise" visit.
Great stories in between project implementation
Claudine Mang-osan and Jovy Dacwag, both community volunteers of the Department of Social Welfare and Development Kapit-bisig Laban sa Kahirapan Comprehensve and Integrated Delivery of Social Services (DSWD Kalahi-CIDSS) cheerfully agreed to accompany us to their sub-project- a footpath. From the moment we met, I could sense their pride for being part of a historic project.
They told us that the footpath is the first and biggest project that was brought in sitio Guesang. It was financed through DSWD Kalahi-CIDSS and the municipal local government unit of Sagada.
Last June 20, it was formally turned over to barangay Bangaan local government unit and will be under the care and maintenance of Guesang Farmer's Organization Incorporated.
Among the 477 barangays implementing the DSWD Kalahi-CIDSS, barangay Bangaan is one of those with good record in the overall implementation of the program.
While walking through the footpath, Claudine and Jovy kept sharing their experiences in a manner that sounded as if they never had problems during the implementation of the program.
"Adda met lang ti saan nga panagkikinaawatan no mamingsan ngem tadta nga nalpas kasla nalipatan amin diyay pati ti bannog (We also had our own share of misunderstandings but after everything was finished, it's like we forgot all of those even our tiredness)," Claudine says while Jovy nods.
"First time mi nga makiparticipate ti kastoy nga project ken first time mi pay nga makipala ken makimasa (It as our first time to participate in this kind of project. I was even our first time to use shovel and mix [cement and sand]," they revealed.
Climbing all the way down to the artfully carved rice fields, Jovy and Claudine remembered their thrilling experiences from participating in construction-related labor. "Mabalin gayam nga makipordia ti babae no kastoy nga trabaho (Women can be laborers in [construction-related] works)," they realized.
It was a complete tour around their sub-project as they showed us the specific sites where children and elders used to cross creeks with difficulty, and where farmers used give up carrying their products due to muddy or steep trail.
"No maminsan ket haanen nga isang-at dagitoy saba gapo ti kadagsen na ken karigat pay ti dalan, uray maibati nga madadael laengen idiay garden (There are times that we won't bother bringing these bananas home because it's heavy and the trail is difficult. We would just leave it at the farm," Claudine says.
Our learning visit allowed us to meet two guys trying to catch their breath along the way. They had sacks of rice beside them.
Both of them beamed when we asked about how are they now with the concreted footpath. "Ad-adu ah ti maeganan mi tadta ta napinpintas ti pagnaan," they bragged. While we continued our walk, we thought that this is one of the perks in working with communities, seeing a small project bring bright smiles from farmers.
We also learned that they are from a nearby barangay but they own a farm in barangay Bangaan. "Adu ti mabenepisyarana daytoy nga footpath ta pati taga Tanolong, Fidelisan, Aguid, Pide ken Madongo ket magna da ditoy (A lot of people are benefitting from this footpath because folks from barangay Tanolong, Fidelisan, Aguid, Pide and Madongo are passing through this path)" Jovy says.
The 1.4 Million pesos is definitely worth it when it is being used by 181 households or even more from nearby barangays.
Our hike back up to the community volunteer's office gave us the opportunity to refresh our eyes and our camera with Bangaan waterfall and the mountain around the small sitio while filling our lungs with fresh mountain air.
Simple but effective strategies
Over a cup of coffee, Claudine and Jovy recollected their memories in the implementation of Kalahi-CIDSS. They talked about simple strategies which greatly worked for them.
"Ti inkasta mi ket pakyaw labor, nagudwa kami iti tallo nga grupo isunga kanayon nga adda ti agtrabtrabaho idiay tallo nga site (we followed the pakyaw labor, we divided ourselves into three groups so in each site there would always be laborers.," Jovy narrated.
Through different strategies, they were able to finish the sub-project within 40 days only against the 60 days target.
Claudine also talked about their division of labor between husbands and wife and how they managed to continue with their normal agricultural activities while conducting all the activities within the Community Empowerment Activity Cycle (CEAC).
The CEAC is a five-stage learning process designed for communities to realize their individual and collective strength, acquire and develop community project management skills, and increase their confidence in engaging local governments in dialogues.
"Tapno haan nga maapektaran ti panaggarden mi, ginudwa mi ti trabaho kadagiti agasawa. No dua nga aldaw ti babae sumublat met nga next dagidiay lallaki (so that our agricultural activities will not be affected, we divided the labor between husband and wife. If the wife worked for two days, the next days would be the husband," Claudine explained.
 "Inlista mi no anya dagidiay matrabaho idiay garden ken idiay construction ken kinita mi ti mabalin nga trabahoen ti babae wenno lalaki tapos ineschedule mi ti panagtrabaho (we listed all specific work in the farm and in the construction and then we identified if these can be done whether by men or women. After that, we made the work schedule)," she continued.
The volunteers and laborers also regularly updated each other on the status of construction thus they were able to manage the manpower coming from the three pakyaw groups.
"Dagidiay nakalpas ti batang na idiay maysa nga site apan da tinmulong idiay bangir nga site isunga at least napaspas nga nalpas ti trabaho (Those who finished their designated work, they went to help at the other site that's why we finished the project fast)," Claudine added.
Claudine and Jovy reflected that their barangay possesses a very important value which is unity or cooperation. "No functional ti volunteers ket kasiyana man (if the volunteers are functional, things will flow smoothly)," Claudine said.
DSWD Kalahi-CIDSS is one of the poverty alleviation programs of the government that seeks to help alleviate poverty through community-driven development or CDD.
CDD is a development strategy that puts power in the hands of the people by giving them the opportunity to decide the development of their communities. #DSWD-CAR, SOCIAL MARKETING UNIT, Jasmin P. Kiaso