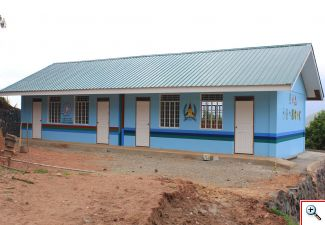 Jerwin Rey A. Balan-eg | UC Intern
People of barangay Banguitan in Besao, Mt. Province have proven once again that nothing is impossible with unity and volunteerism.
The barangay was able to put up a two-classroom high school building worth 1.2 M pesos through bayanihan (cooperative undertaking or free labor) locally known as galatis.
The school building, which was a second priority of the barangay during the implementation of a DSWD-led project, has been funded by ABS-CBN Foundation in cooperation with the Department of Education and the Armed Forces of the Philippines.
The community earlier prioritized and implemented a farm-to-market road project under DSWD's community-driven development program. This year, they have identified as priority a community drainage canal.
Barangay Chairperson Gerry Caysoen said they were able to achieve the construction of the school building because of the community's bayanihan reinforced during the earlier implementation of Kapit-Bisig Laban sa Kahirapan Comprehensive and Integrated Delivery of Social Services (Kalahi- CIDSS) Project of the DSWD.
Caysoen added that the community was quick to provide voluntary services because of their eagerness to contribute for the common good. "We might be poor, but we are ready to join the bayanihan," he said.
The barangay leader said the community even initiated a "resolution of commitment" as volunteers for the construction of the school building project.
Together with the 17th Engineering Brigade of the Armed Forces of the Philippines, all 136 households of the barangay participated in the construction of the classrooms that started in November 2012 and was completed January this year.
Caysoen also highlighted the active involvement of community volunteers who were mostly beneficiaries of the Kalahi-CIDSS and Pantawid Pamilyang Pilipino Program of DSWD.
He said through the cooperation and hard work of the volunteers, they were able to finish the project in time for the opening of classes June this year. #